This: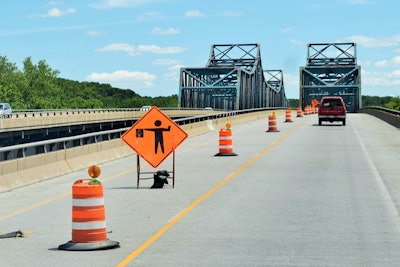 Without a budget deal in Illinois between Democratic-majority lawmakers and the governor (Bruce Rauner) today, according to this Associated Press report from earlier in the week, a round $2 billion worth in ongoing road construction in the state could be halted.
Judging by the extent of resurfacing and other projects I saw Tuesday and Wednesday on I-74 between Moline and Bloomington-Normal, and on I-57 south of Champaign-Urbana to the I-24 interchange in the Southern part of the state, risk in this case could well be a good thing. Projects dot the map all across the state, in some cases tying up traffic, notes Landstar-leased owner-operator Gary Buchs.
I was on a run with Buchs in his 2000 Freightliner Century from Ashland City, Tenn., to Moline, then back to Bloomington (more on that later) that, fortunately, did not result in any undue back-ups along the route. We took the Pennyrile Parkway path up through Kentucky to U.S. 41 through Evansville, Ind., further north to connect, via rural routes, with I-57 and 74, avoiding Northbound I-57 back-ups Buchs had seen in prior days around Mt. Vernon, Ill., among other spots.
What we did see: Plenty of orange-and-white barrels and periodic slow-downs. Not a big deal for us in the end, but the same can't be said for many others in different spots around the state, I'm sure.
Potential upside of an Illinois budget deadlock? Maybe risk could be a good thing in this case — some of those barrels might go away for a time, eh? Though if the state can't pay for the construction projects, who's to say whether it'll pay for the barrels' removal…
If you run the area, keep tuned to news through the day for the final verdict on the state budget deal (reports late yesterday suggested Dems and the guv were close), and watch for slowdown alerts on your traffic apps and our Roads 511 Twitter feed aggregating state DOTs' info services (at bottom).
Read ABC news of the tentative budget deal in Illinois at this link.
Tweets from https://twitter.com/channel19todd/lists/roads-511