Whether you are a company driver (whatever company that may be), or an owner-operator, we are all on the same team, we are a community. Please stop acting like the entire universe revolves around only you. All of these unprofessional behaviors most of us learned by nursery school age. I have heard it time and time again — you want to be treated as a true professional, well guess what, you have to act like a true professional or you will always simply be an amateur!" –Former OTR driver Charles Brady of Spanish Lake, Mo.
The "unprofessional behaviors" mentioned above are what former trucker and restaurant manager Charles Brady claims to have witnessed day-in, day-out at the truck stop where he works today as a maintenance man. In a letter to a variety of trucking-media outlets, including Overdrive, this week, Brady laid out something of a diatribe that nonetheless holds some truths I reckon many of you well agree with, including the one above.
I won't include the letter here in total, as its various points have been brought up time and again here, particularly in a variety of entries in my colleague Wendy Parker's blog dealing with fuel-island etiquette (i.e., the isle is not a parking lot) and things of this nature: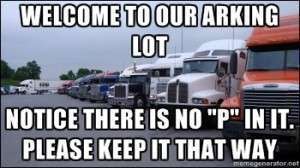 The crux of Brady's argument is that there's a strong current of unprofessional selfishness rearing its head in a lack of basic courtesy on offer from drivers at his truck stop (which he doesn't name and which he's quick to note does not necessarily share his views, which he says are his alone).
"Our goal is treat you like a member of our family visiting our home for a holiday meal," he says. "Whether you are simply refueling and going, taking a 10-hour break or a 34-hour reset, we provide goods and services to make your stay relaxing, safe and comfortable." There's lots of diesel and windshield washer fluid, among other truck supplies, in all of that, not to mention but mention anyway cleaning "four restrooms every hour and as many as 200 showers a day," Brady adds. "We empty 100 trash cans inside and outside four times a day."
Too often, he says, however, the unprofessionals among the true professionals throw a wrench into things and make all of that much harder and, well, sour the experience for all involved.
Brady ticked off a litany of 20 and more things that included among other things one day recently picking up 75 empty beer cans in one day from the lot, but the general idea is this: "Anything and everything that is a hindrance" to the driver who tosses something out into the lot "now becomes a hindrance for me — dumped pallets, huge pieces of cardboard, anti-slip mats, old food, mud flaps, etc.
"I am asking for the entire team of Professional Drivers' help."
As Wendy's written, while shaming individuals or a group into making something better might well be counterproductive in many instances — and as she put it, "there's not enough time in the day to attempt shaming people into acting right," and "it also shames the entire industry to propagate these unfortunate incidents" — if you see opportunity to make a personal difference with someone you observe doing something clearly outside the bounds of appropriate respect for a shared space, in a constructive way, by all means take that opportunity.
Here's wishing a safe weekend to everyone out there, particularly those on the Southeast Atlantic coast.