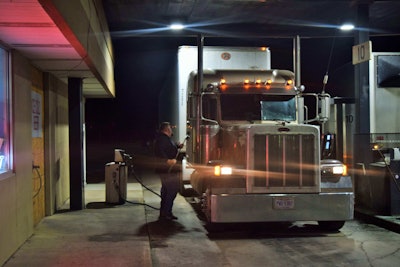 An early rise for owner-operator Scott Reed preceded this 5:30 a.m. stop at the Anna Truck Stop at I-75 exit 99 in Ohio, due South of his home in Buckland, fairly near Lima. Reed and his 2005 Peterbilt 379 I've had the opportunity to accompany on part of a two-three-load run, still ongoing, within a roughly 200-mile radius of his home. At the moment I write this, the bump of the forklift has started at Liberty Distributors in Tridelphia, W.Va., unloading Honeycell honeycomb-style cardboard packaging material.
Detention quagmire not yet in full swing, but the forklift operator skipped out on us pretty much the second he arrived to unload the truck (20 minutes after our arrival) and didn't return for about an hour, give or take. Looks like we'll be out of here in under 2 hours, though, so not terrible all told. Next stop — East Palestine, Ohio, for an unload in the morning in Findlay.
More later — for now, here's what I won't call the best thing we've seen out here, but certainly among the, oh, let's say, most typical, maybe?
Driving a government-employee-issue car, no less… Go figure. Unless the Malibu is one of those pilot-test autonomous jobs. "The system's having a heck of a problem if it was," Reed says, judging by the weaving going on.