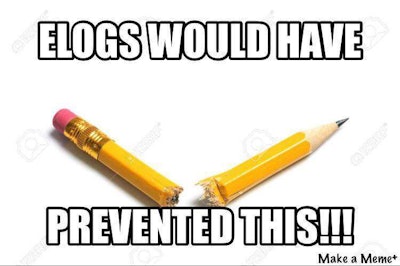 The Indiana State Police truck enforcement unit shared this one (above) on their Facebook page, noting like many truckers no small amount of frustration with the Federal Motor Carrier Safety Administration's rule requiring use of electronic logging devices come this December for most truckers. As you can see in the ISP moderator's remarked under the meme, a request was put out for more, and boy did they get 'em.
What might be my favorite among the memes isn't actually a meme, however, but something a moderator posted in response to trucker's question about his personal thoughts on ELDs generally. Those thoughts I've found to be not exactly uncommon in off-the-record-type conversations with law enforcement around the nation over the years:
This is my personal opinion: I think that the HOS should be re-evaluated and the ELDs should be used as a bad boy item for carriers that have been found to need help with compliance issues! That is just my opinion.
Hope yet for change? The wheels of government turn very slowly, of course, but hey, since I last looked, with continued grassroots efforts on influencing lawmakers there have been more to sign on as cosponsors in a steady drip — to 64 up from around 50 the early-October week of the ELD protests — to the H.R. 3282 ELD Extension Act bill that would delay the mandate two years to give some time, potentially, for something like the above to eventuate. I'd give it an unlikely at this point, but, again, one can hope — Texas rep Brian Babin, principal sponsor of the bill, issued a letter to Trump today asking for an executive order to delay the mandate by a few months, at least:
You can follow the Indiana enforcement division on Facebook via this link.
Tolls, tolls and more tolls
Other news out of Indiana in recent times is less encouraging. According to the Chicago Tribune in a story that dropped November 2, state lawmakers actually signed into law a bill that required study of the revenue-producing effects of an idea that, if it ever sees anything resembling fruition, would toll most every major interstate in the state. From the Tribune story:
The feasibility study conducted by the state Department of Transportation estimated how much money would be generated from tolls on six interstates: 64, 65, 69, 70, 74 and 94…. Potential toll rates ranged from 4 cents per mile for automobiles to 19 cents per mile for heavy trucks.
The Indiana Toll Road along portions of I-80/94, of course, is among the old toll roads grandfathered into the interstate system and thus OK under federal law to retain its tolls, now under lease to a private company. You can see where this is going.
Advisers to the Trump administration signaled willingness to entertain such methods of highway maintenance/expansion financing in the early days of the administration (spawning some trucking backlash), perhaps delivering Indiana lawmakers all the cover they needed to make moves further in the direction of tolls.
The feasibility study mentioned by the Tribune projected a $39-$53 billion influx of revenue from such an idea over the next three and some decades, though WFYI radio in Indianapolis contested the figures, given the study seemed to ignore some stipulations in the law restricting new toll lanes to be considered that were within 75 miles of existing toll lanes.
The Tribune, quite rightly, noted any move in this direction will need federal approval. Would they get it? Today, after chipping away at the ban on tolling existing interstates by allowing some tolling for new bridges/new lanes on existing interstates, the law remains that existing lanes are off-limits with very limited exceptions in a pilot program no state has gotten past the feds and/or widespread in-state opposition. So, unless we're getting into brave-new-world-type territory around this issue with this administration, and Trump did propose to remove the current ban on tolling existing interstate lanes, I'm going to give this one an unlikely, too, particularly short-term, but be advised …