I've written briefly about what the anti-driver coercion rule, released in tandem with the electronic logging device mandate and placing official prohibitions on driver harassment and coercion to violate a regulation, opens up for operators who find themselves stuck between a rock and a hard place, say, stuck at a shipper or receiver and out of hours, with no chance of remaining on the property.
At once, we haven't gotten into much detail about the enforcement mechanism the agency is utilizing/planning to utilize to investigate complaints about problem facilities.
FMCSA Office of Enforcement and Compliance Director Joe DeLorenzo, in the second of a few seminars/listening sessions he participated in at the Mid-America Trucking Show in Louisville last week, laid out some of those specifics, noting new authorities the agency has to investigate such problem facilities — that is, provided they know about them. That's where you come in.
During the listening session with new FMCSA Administrator Ray Martinez, a third-generation small fleet owner relayed an anecdote about a recent situation where a driver nearly out of hours was detained at a facility for six hours after carrier back-office personnel got in touch with both the facility and the broker on the load to "make sure that if the driver sat for more than two hours he'd have a safe place to park."
That safe place to park to regain hours — you see where this is going, I'm sure of it — didn't materialize. "Shippers need to be held to the fire and not pay just 25 an hour for detention," the small fleet owner said, and think the problem goes away.
The coercion rule "for the first time gave us enforcement authority over a shipper [or receiver] that causes a violation of the regs" by a driver, DeLorenzo said. "We've had very little action in that area," perhaps the biggest problem for owner-operators going. Remedying the situation, answering the question of just what the FMCSA could do to help solve the problem "within the existing regulations," DeLorenzo added, is "exactly why we" developed the coercion rule. "If we find out about [problems like the one described above, where a driver over hours limits is essentially forced to violate the regs or miss the load opportunity], we now have the authority as an agency to address it. We can go after them investigatively and fine them for that, and all the investigative authority that comes along with that."
Filing a complaint about a location can be done via the National Consumer Complaint Database's FMCSA-specific website. If you click through to the "Driver" section of the website's navigation, you will see the option for a "Truck Complaint" and, under that heading, the selection for "Coerced to commit a violation."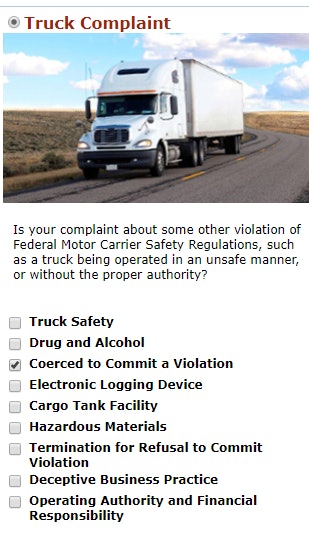 "On this particular issue," DeLorenzo says, "if you were going to file a complaint … we get that complaint and now we're connected. We bridge that out to the field staff" at FMCSA division offices, which are in every state in the nation. "That's how the process works – we have a way to intake it and make sure we have the ability to move forward."
A violation need not have occurred in order to satisfy the stipulations of what's necessary to be an actionable coercion complaint, as long as the driver tells the shipper/receiver (or broker, for that matter) that doing what that party wants will violate a reg, and then the shipper/receiver/broker takes actions, or makes threats, that can be interpreted as actions that would limit, or as threats to limit, work opportunity.
To invoke an oft-shared situation, if a driver's out of hours and is kicked off a receiver's facility at closing time — the old "leave or the law will be called" — that action by the shipper coerces you into a violation by (implicitly, probably most typically) threatening arrest for trespass, which no doubt would limit work opportunity as I see it.
Though a violation need not have occurred to satisfy the rule's stipulations, if you're utilizing an ELD, documenting the violation as a piece of evidence, of course, will be no big problem when you're forced to drive when you're supposed to be off-duty (unless you're trying to play the game of papering over it by utilizing personal conveyance or a yard move, or staying under 5 mph to get out of the yard — the yard moves special driving category would be allowable, according to prior conversations with DeLorenzo, if you're just moving within a shipper's facility and not on a public road, though it will put you on-duty/not driving rather than off-duty and may document a violation, too, depending on whether driving time or on-duty time is the limit you're up against). Documenting the violation will of course open you up to potential roadside problems if inspected, as does any violation, but clear annotations within the log and a copy of your complaint to the DOT, should you make a complaint, might serve to explain the issue for most officers. (Emphasis on might, cross your fingers, etc. … yeah, I know, I know).
Here's the minimum of what FMCSA wants to know with any complaint:
Your name, address, and telephone number.
The name, address, and telephone number of the company. [In this case, the facility involved.]
Origin and destination of the shipment.
The Department of Transportation (DOT) and Motor Carrier (MC) identification numbers, if available. [Not applicable to shippers and receivers, but would be if a broker is the offending party.]
Specific violation(s) alleged. [Violation of the coercion prohibition in this case.]
Documentation of the coercive act, whether text messages and your replies, screenshots from within your logbook or whatever the case may be, are encouraged, of course. You can find further information about the Coercion Rule via this link, too, to FMCSA's website, and reporting the complaint directly to the nearest state division office is also an avenue you can take for complaints, outside the FMCSA's complaints database.
For owner-operators or drivers worried about damaging customer relationships by reporting them, my thought is that if the facility is clearly abusing its access to drivers' time, it's probably worth it. If it's a facility you're likely never to encounter again and it's clear this is a serious problem for others at the facility, it could be worth it, too.
The point is, ultimately, if enough people engage FMCSA this way about real problems they're having, it might be an effective way to put your tax dollars, and on-the-ground information, to work in enforcement in an area where it's needed. Better yet, considering the long-ongoing hours/undue-detention dilemma, the shippers and receivers with the biggest problems might have a little more impetus toward getting their act together already.
Anyone here reported a facility lately, perhaps? Results?