For a more up-to-date story reflecting the 2020 hours of service changes and their specific impacts on split-sleeper logging, follow this link for a similar example, with a video tutorial, under the new rules, generally more permissive for splitting rest without losing valuable duty time.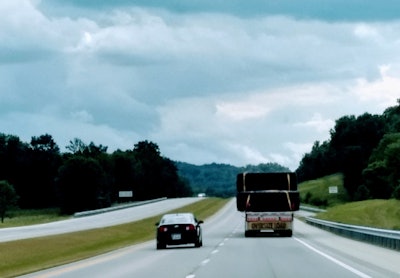 I imagine to a lot of you this is nothing you don't know already, but I've had more than one inquiry of late into the FMCSA's hours of service rule's current sleeper-related provisions. The latest inquirer wondered why FMCSA requires drivers who utilize the sleeper-berth line to log at least 8 consecutive hours in the berth, yet his ELD doesn't re-set his daily hours after such time is completed.
The short answer, of course: That 8-hour requirement is there for those who would take advantage of the 8/2-hour split of the required 10-hour off-duty period, allowed for in the regs. To reset daily hours in total, he'd need to at some point take a 10-hour off-duty period.
The 8/2 split (or 2/8 — it doesn't matter which portion comes first) is being newly scrutinized by many around trucking in the wake of the ELD mandate, as it's perhaps the principle allowance for off-duty-period flexibility in the regs.
FMCSA's pilot test of greater split-sleeper flexibility, which I've brought up numerous times now as it languishes in preparatory processes at DOT (most recently here), is looking to run a trial in which drivers use more even splits of the 10-hour required off-duty period, perhaps in ways that offer a model somewhat similar to drivers' pre-14-hour-rule methods for splitting the berth period.
Yet overlaying the 14-hour rule in the current 8/2 split allowance is not exactly simple. The regs complicate matters by allowing for the at-least-8-hour portion of the split to be excluded from the 14-hour clock, but not so for the at-least-two-hour break.
Here's a hypothetical series of logs from T. Dills Trucking leading into the current day that might help illustrate it for those who are iffy in their understanding of it, as I have been when it's been a while since I've thought about it.
I roll for seven hours then to the Birmingham, Ala.-area facility for partial offload in the early a.m., then, happy I can actually roll seven hours straight without needing to stop for anything (impossible everywhere but in my own imagination and/or for those of you who excel at this sort of thing) and also delighted I can actually park and sleep at this place. I get there with a couple hours to spare on both drive and 14-hour limits. It's 6 o'clock and they're way backed up. They give me a time for unload.
Early to bed, early to rise. G'night.
So you probably get the point by now about how the 14/11 period rolls in the current version of split-sleeper use. Here's where I was when I screenshot the logs above in the BigRoad app (non-ELD) version I used to help double-check my work: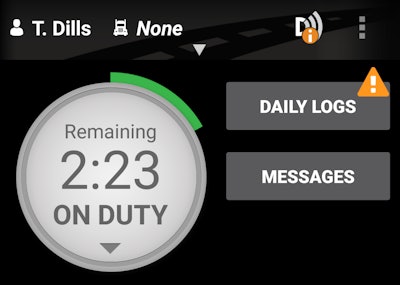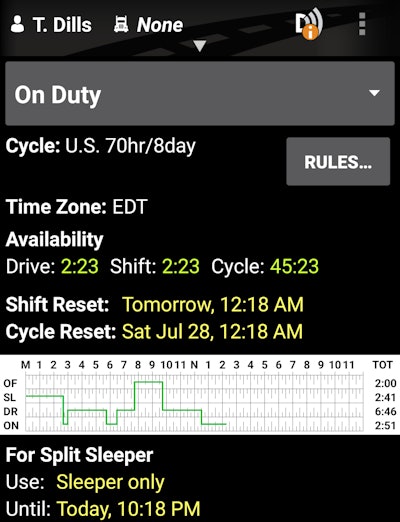 Much of the talk around changes in sleeper splits has been around allowing the shorter periods in the split to function like the 8-hour period in the current split — to not count against calculation of the 14-hour on-duty limitations. At least that's been my understanding, and part of the recent petition put forward recently by the ELD or Me folks. If it had been possible to exclude the two-hour break on the final day from the 14, I'd have had that much more drive time to roll, for instance, given those mid-cycle off-duty hours might as well be treated like on-duty time.
As for the rest of the example above, for those of you who've remained mystified by the 8 and 2 split, I hope it helps. For those of you not so mystified: feel free to offer corrections and clarifications if I've missed anything. As I remarked under a discussion on Facebook recently with owner-operator Phil Killerlain and several others, thinking about and communicating this particular topic makes my head hurt a bit.
If anything's unclear, hit me in the comments or with a message or a call.
Stay safe.