If you've never seen trucker (and so much more) turned contemporary blues virtuoso William "Watermelon Slim" Homans III play live, I'd urge you to take the opportunity afforded by a tour he's on supporting his latest record, "Church of the Blues." With dates starting Jan. 24 (in Oxford, Miss., in Homans' current home state), then tracking up North for several dates in the Midwest before heading back South and moving on, on Feb. 2 Slim will be in Redkey, Indiana, northeast of Indianapolis, for a date at the Key Palace Theater. There, he'll have a special guest in Overdrive Extra contributing blogger and singer-songwriter Paul Marhoefer, native of a nearby town and who's played several times at Key Palace in past.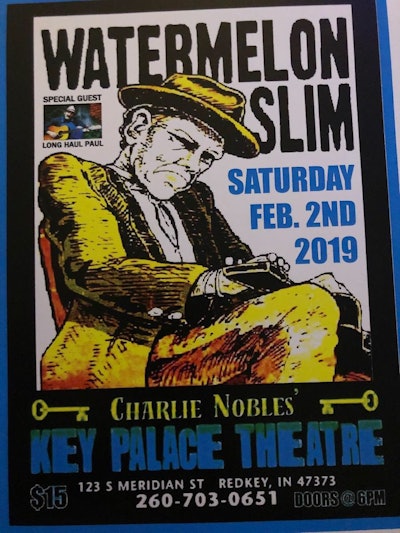 After "Long Haul Paul" Marhoefer interviewed Slim about the new record late last year, he was surprised to get the invitation to join Slim — and honored to do so, of course — for this event. Between the two of them, they've got folk and blues Americana roots music covered here. Can't recommend that particular show enough for residents in the region. The Saturday show kicks off at 7 p.m., doors at 6. And if the weather for that weekend turns out decent between there and Nashville, I might just see you there myself.
Find Watermelon Slim's tour dates through June at this link, and read more about Slim's place in music (and trucking) history via Marhoefer's story via the link below. For Slim live in a club atmosphere, this video from way back in 2010 when I saw him solo here in Nashville does a little justice to his show.
Retired owner-op/author Marc Mayfield's new fiction
Regular readers may recall former owner-op Marc Mayfield chronicled his (mostly) 1990s tour through trucking in his memoir-ish In the Driver's Seat back in 2011. As I wrote at the time about what I still think of as perhaps my personal favorite among the many books written about trucking I've come across before and since:
The book is a portrait of long-haul life unparalleled in its honest intensity, a quality many drivers will no doubt appreciate in spades. It chronicles his 10-year trucking career, a million and more safe miles logged from 1991 to 2001 as a company driver for and then leased to the same carrier, "dispatcher buster" of a tape recorder at the ready — and getting hard use.
Told in a muscular, viscerally impressionistic style (with plenty of humor to boot), the book's quick scenes of over-the-road initiation roll hard from one to the next with years running Florida to Washington State, New York to Arizona to Colorado to Oregon and back and round again.
It's well worth a read, if perhaps you haven't ($2.99 for Kindle, $13.05 paperback). His new, one, similarly, I finished over the course of two nights on a recent weekend, and if In the Driver's Seat was trucking literary memoir's veritable quintessence, On Grove Street (released late last summer) is a shining example of a character-driven whodunit with all the scintillating trappings of a serious literary novel and the best, page-turning detective fiction you'll come across.
Mayfield says the work's origins extend back to his mid-1980s employment as a geologist with an engineering company in San Jose, Calif. "My boss bought the furniture from another engineering geologist who was retiring," Mayfield says, and "his office was in San Francisco, on Howard Street. So … my geo-buddies and I took two company pickup trucks up to SF one evening and parked in front of the retiring EG's office building. Given the neighborhood, one of us stayed with the trucks while the others lumped furniture. On my tour of truck watching, I happened to look across the street and there were a guy and a woman, walking," both of whom struck Mayfield as near doppelgangers for a former roommate when he was college-aged in Santa Rosa, and the roommate's girfriend at the time.
That moment eventually led Mayfield's brainstorming to the fictional event that drives the whodunit action of the book, a sniper-like murder of a man on a streetcorner in San Francisco. "And I carried that around for years. Copious notes, lots of stuff thrown away," he says. But the web of characters conceived around a plot that does not disappoint for page-turning complexity was plenty enough to spur him on to complete the story three decades later. It's got nothing to do with the trucking business but for the fact that Mayfield wrote it. At once, if you're a fan of detective fiction, it might be just your thing. I know it's mine.