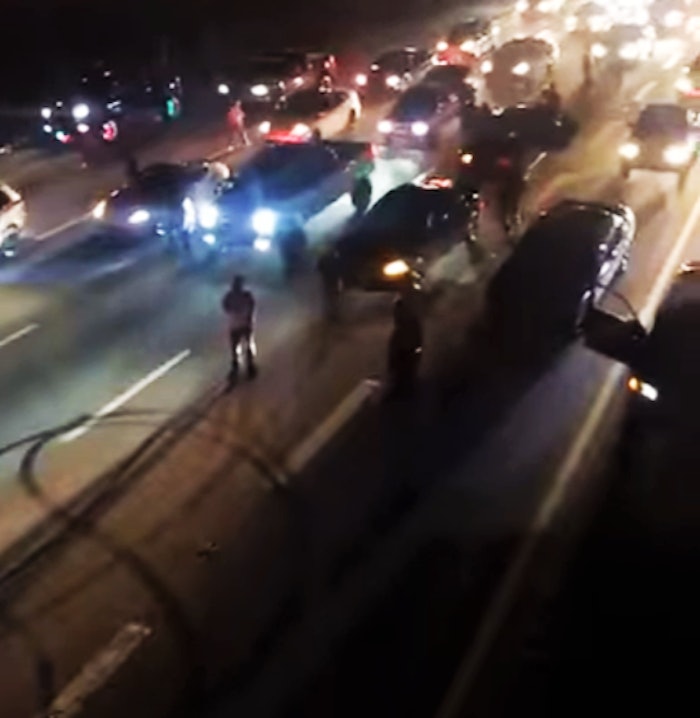 Stupid. Dangerous. Dumb. Police are trying to figure out who stopped traffic on I24 Saturday night so they could do at least a dozen donuts. pic.twitter.com/vdk1JY0sy0

— Chris Conte (@chrisconte) February 11, 2019
The folks who stopped traffic on I-24 here in Nashville late Saturday weren't protesting anything related to trucking — or anything discernible at all. The scene, captured on video by one among many on the overpass above where the stop occurred (and who clearly knew this was going to happen), made the rounds of the local news broadcasts yesterday evening. Video showed a car doing donuts in the empty space guarded by a line of other cars, as traffic backed up and travelers looked on.
Ricardo Suarez, who shot the somewhat viral video of the shenanigans from the overpass where traffic was stopped, attempted to later distance himself from it all on the news broadcasts while also claiming some affinity for the "car scene" in the area as a young man, which he still is.
The brief, pointless (but for local and Facebook bragging rights, it seems) interstate shutdown, coincidentally, followed two days after another slow-roll convoy by bobtail trucks that took place in the Dallas area last Thursday, Feb. 6., getting the attention of local press there. (Unlike during the October 2018 convoy out of D.C., these participating truckers did not block traffic: Catch a news chopper's long video of much of the convoy via this link — or embedded below.)
Part of the efforts of the "Stand as One" groups calling for a trucking shutdown April 12 in protest principally of regulatory over-reach with ELDs and the flawed hours reg, among other rules, promoters say (or in the case of training, something closer to the opposite), the slow roll — participants drive at slightly less than the speed limit — was intended to draw attention to that call for a shutdown. Numbers of participants seem to have been somewhat similar to the slow roll that took place in Illinois a couple weeks back, and plans remain in place for another media-attention event in and around Indianapolis Feb. 21.
Several truck drivers are protesting what they consider never-ending burdensome regulations with a "slow roll" through North Texas. They're reportedly going about 45 mph. http://bit.ly/2UM8Py3

Posted by FOX 4 News on Wednesday, February 6, 2019
Find background on recent and upcoming efforts, which grew out of the last couple years' worth of ELD-mandate protests, some contrasting views from among past and current participants, and reasons why the Stand as One groups are calling for a shutdown all via this report from last month:
As for the four-wheelers' stunt on I-24, the intent overall there is perhaps simpler to explain. As summed up in the Nashville CBS News 5's anchor: "Metro Police and THP are investigating together. Given all the video floating around on the Internet, they tell us they have plenty of potential leads."