Friday evening in Monteagle, Tenn., at Jim Oliver's famous Smokehouse restaurant just west of I-24 at the top of the mountain, former Trucker Talent Search winner (2016) Jason Lee Wilson performed with his James County group. The venue's one of his semi-regulars, and notable given Wilson, based nearer Knoxville in East Tennessee today, is originally from the area.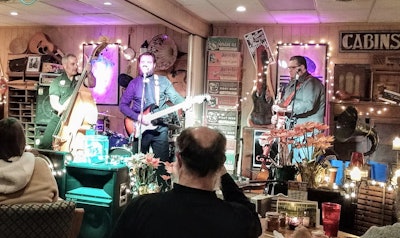 Talk about a hometown hero's welcome. Like an owner-operator getting near the end of the 14-hour rule, I headed out of Nashville for Monteagle at 5 p.m. Friday, enduring the slow bumper-to-bumper of rush hour and arriving thus slightly late for the event, at about 7:15. There was nary a seat to be had in the main dining room where Wilson and his band were set up. Soon as I managed to find one, though, Wilson and company started into the title track of the soon-forthcoming record, "Tennessee," whose provenance Wilson memorably narrated in this recent-past edition of the Overdrive Radio podcast:
The two-hour set included numerous Wilson original songs — including his "Big Gun," the title track from a past record, as well as numerous tunes that originate from lived experience with well-known locals he memorably narrated between tracks — and cover tunes spun with James County's particular brand of rockabilly. Covers included a rollicking rendition of the classic "Gold Old Mountain Dew," Jimmie Rodgers' "Blue Yodel No. 8" (mashed up with the sped-up version, the equally well-known Bill Monroe's "Mule Skinner Blues"), "Copperhead Road," a version of "I Hung My Head" (written by Sting and most memorably recorded by Johnny Cash), "Blue Suede Shoes" and more.
Wilson's new record's at pre-order stage right now — for those who put in an order by Jan. 20, Wilson and James County noted last week, all proceeds from the sale will be donated to relief efforts ongoing in Australia, where wide swaths of land and a variety a communities have been hit hard of late by wildfires. You can find out more about the record via this link.