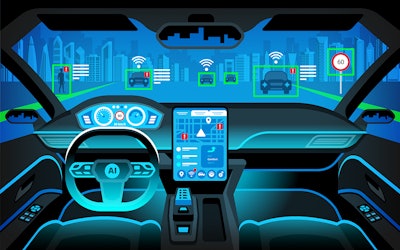 Advocates for Highway and Auto Safety is associated in your mind in this day and age, I might wager, for pressing for technological fixes to safety problems that many truckers feel would be best solved with better, more robust road safety and everyday/professional driver education.
A press release from the organization early this week, however, seems to run counter to their push for mandates for tech like collision avoidance systems and automatic braking features in new trucks — and potentially gives safety-conscious truckers a strange kind of ally in pushing back against hastened deployment of fully autonomous vehicles of most any kind.
The press release came in advance of a House hearing on autonomous vehicle technologies, and illustrated a significant level of concern that the motoring public has about sharing roads with machines that pilot themselves.
Advocates detailed results of a survey it commissioned that was meant to send a message to legislators as they discuss a framework for appropriate safety regulation of new vehicles. When it comes to a binary choice between being concerned, or not, about moves of automakers in particular to put more fully autonomous vehicles in the hands of buyers, 85% of survey respondents reported some level of share-the-road concern.
That rate was lower among the youngest group of respondents, aged 18-23 — perhaps naturally a result of the sense of being bulletproof so common at that age — but still 75% percent of those young people reported the same.
The survey, and Tuesday's Congressional hearing, pertained to autonomous vehicle technologies broadly, but nearly all language used in the survey report referred specifically to "driverless cars," not heavy vehicles. I wonder what kind of result might be garnered if levels of concern about sharing the road with truly driverless big trucks and trailers was the focus? My young daughter's grown a bit since I first presented the self-driving trucks possibility to her three years ago. She's getting on 12 today, and certainly has a more cagey sort of control over what she'll reveal to you. Still, a truck with no one at the wheel? Yeah, that same look of horror passes across her face now, just as it did then. She doesn't want to be anywhere near something like that.
The Advocates group is pushing for standards to be set and enforced for new vehicles' advanced safety-assist features, which have already been entering the auto markets at a rapid pace. The Trump DOT has mostly taken an approach that's seemed laissez-faire around the tech, I think it's safe to say. But some view his and, to a lesser extent, prior administrations as expressly advocating to hasten the deployment of driverless vehicles. Though the National Highway Traffic and Safety Administration acknowledges a long evolution in these tech systems is likely, a look at NHTSA's "Automated Vehicles for Safety" hub on its website shows it does in fact seem to encourage driverless systems as a future safety benefit.
DOT's budget request for fiscal year 2021, issued the same day as Advocates' press release, included $32 million allocated for driving-tech research overall and $7 million "specifically directed at automated driving systems," NHTSA Acting Administrator James Owens said in a conference call with reporters. $6 million in the administration's plan would be dedicated to advanced driver-assist systems, and $3 million to cybersecurity of those systems.
Granted, that's a small fraction of the DOT's overall budget request of $89 Billion-with-a-capital-B. But the goal of funding research? "To move the ball forward" on NHTSA's stated mission, Owens said. Basically: helping grease the skids for technology that it believes will ultimately save lives.
Advocates' efforts to make Congress of aware of the general public's concern about these techs' safety is laudable, particularly its Monday warning about the dangers of driver complacency that lane-keeping and other automated-type features can engender. Yet in a certain sense it's having the cake and eating it too. By and large, Advocates and NHTSA have been on the same page relative to using technological fixes for safety, broadly speaking. Just two weeks ago, Advocates called on Congress to mandate "proven safety technology including automatic emergency braking (AEB), lane departure warning (LDW) and blind spot detection (BSD)," including on commercial vehicles when it comes to the braking tech. (And as usual, in a section of that particular release, two weeks ago, they predictably invoked the "needless carnage" of death in truck-involved crashes, with no mention of just who is responsible for precipitating such events… Such is never helpful.)
Advocates did urge, as they did Monday, standards to be set for these technologies, to which manufacturers can be forced to adhere. And they're not — yet — advocating for any lane-keeping tech requirement that I know of. That's where the "self" in "self-driving" really comes well into play, and where the complacency risk goes off the charts, as perhaps evidenced in Tesla drivers' crashes while using the terribly-named "Autopilot" feature.
I'm reminded of the 737 Max aviation disasters, and something I wrote at the time in a post about driver engagement, manual shifting, automation and more:
The incremental additions of automated features at highway speeds is ultimately an experiment with how much distraction the human brain can resist before it falls asleep at the wheel.
Vehicle makers new and old, and end users, would do well to recognize and take very seriously the implications.
Invocations of truck-accident "carnage" aside, I think we can at least snap our fingers in muted applause for those who at least seem to be trying.