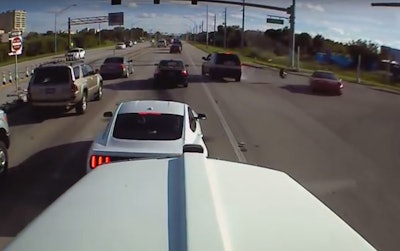 Having a crash determined to be non-preventable, meaning at its essence that the driver of the truck did everything practicable to avoid the crash and/or couldn't possibly have done so, in the Federal Motor Carrier Safety Administration's newly permanent review program could pay dividends in the form of having it removed from consideration in the Compliance, Safety, Accountability scoring record. For those of you with motor carrier authority, that means one less ding from CSA's carrier Safety Measurement System, still in wide use by insurance underwriters and others via private-party tabulation of scores.
For those without authority, too, damage insurance implications for truck owners notwithstanding, benefits could be seen in non-preventable notations in the driving record accessible via the Pre-Employment Screening Program, commonly accessed by a fleet before it strikes a new lease with an owner-operator or hires a professional driver.
Reportable crashes that you or one of your trucks were involved in dating back to August 1 last year are newly eligible for "preventability" review — if they fit one the following descriptions, if your truck was struck …
… in the rear or on the side at the rear
… by a vehicle going the wrong direction in a lane or making a u-turn or illegal turn
… while legally stopped whether at a traffic control device or while parked, including while the vehicle was unattended
… after failure of the other vehicle to stop or slow in traffic, or at a traffic control device
… by a driver under the influence or operating while intoxicated, according to the jurisdiction of occurrence
… by a driver experiencing medical issues, falling asleep or distracted by a cellphone, GPS, passengers or other factor
… by cargo/equipment/debris or as a result of infrastructure failure
… by an animal
… by an individual attempting suicide
… in other rare or unusual circumstances, such as being struck by an airplane or skydiver or by a deceased driver.
(Find FMCSA's full crash-eligibility guide at this link.)
The FMCSA's online DataQs system is where you'll be required to initiate any crash review that fits the eligibility parameters. To use DataQs, if you have your authority it's likely you already have an FMCSA Portal account, with which you can access the DataQs system. If you don't have authority, you can still use DataQs but you'll have to set up a DataQs account for yourself to be able to log into and navigate the system.
Chief information about the crash that you will need:
State in which the accident in question occurred as well as at least one of the following: DOT number of the carrier involved, FMCSA crash report number (available via your CSA SMS profile or PSP report or via lookup forms during the submission), the accident date, and/or vehicle state and plate number
The crash type (see the list above)
Driver's name
A detailed explanation/narrative of the accident
For fatality crashes, post-accident drug/alcohol test results
And, perhaps most importantly, the Police Accident Report from the local authority as well as further documentation supporting your case that it's a non-preventable crash.
You will upload an electronic copy of the PAR via the submission system or, alternately, fax in a copy. Additional documentation could include a variety of things, from any available video or eyewitness testimony, your own pictures from the post-accident scene, insurance documentation from the claims process, court affidavits in your favor and more.
After the submission process is complete, you can expect to wait. During the demonstration program, some carriers waited an inordinate amount of time for a final determination, while I've also heard anecdotes of others getting fairly speedy results. The carrier's example I gave when I wrote about the demonstration preventability program last fall, when FMCSA was proposing to make it permanent and taking public commentary, was then in the middle of a four-month lag between making the request for review and receiving results — which it hadn't yet.
Another thing to keep in mind before submitting the review: There's still some remaining uncertainty around critics' contention that FMCSA's plan to publicize crash preventability determinations in cases where crashes were deemed in fact preventable or were reviewed and no determination was made could have unintended deleterious effects in crash litigation. The agency did spell out steps taken to mitigate against this possibility in its Federal Register notice announcing its permanent adoption of the program. Both the National Association of Small Trucking Companies and the Motor Carrier Regulation Reform coalition of groups voiced this worry — FMCSA decided to keep the labeling of reviewed crashes but has added specific language on the SMS website that warns use of preventable/non-preventable determinations in civil litigation for damages would itself be a violation of a specific U.S. code having to do with the admissibility of crash records of this type in litigation:
A crash preventability determination does not assign fault or legal liability for the crash. These determinations are made on the basis of information available to FMCSA by persons with no personal knowledge of the crash and are not reliable evidence in a civil or criminal action. Under 49 U.S.C. 504(f), these determinations are not admissible in a civil action for damages. The absence of a not preventable determination does not indicate that a crash was preventable.
The agency will continue to warn against use in civil litigation, too, in each of its public postings of determinations, as it did during the demonstration, it said in the Federal Register. That's right: Each preventability determination will be up for public comment for 30 days before being made permanent under the rules of the program — more time to wait.
Like I noted above, though, it's an opportunity to improve the record, if you can make a good case. Regular users of the DataQs system to challenge violations and/or inspections can take heart in knowing that at least the review procedure will be handled by an arbiter with at least a greater degree of removal from the crash itself, rather than being routed straight back to the jurisdiction that issued the report — to greater or lesser degrees, depending on the jurisdiction, how violation and inspections are often handled, sometimes stacking the deck against corrections. FMCSA has contracted dedicated reviewers to handle these, it notes in the Register.
If you submit a crash for review, feel free to share any details here or get in touch directly with helpful tips or things to look out for. I'll be interested to know how the program is working for those unlucky enough to need to use it.