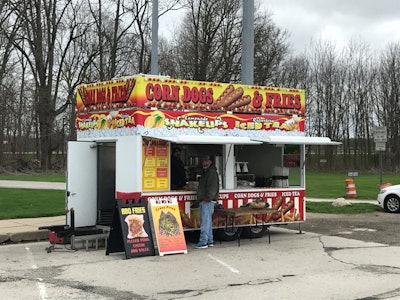 Here is a picture from our I-65 rest area, just north of Lebanon. Have a food truck & want to do your part to help stop COVID-19? Apply for a permit to set up at our rest areas for truck drivers who are unable to access food elsewhere. Learn more & apply: https://t.co/QOCuJirvi7 pic.twitter.com/gSOlRZNBUE

— INDOT West Central (@INDOT_WCentral) April 13, 2020
Something of a guest post today from a man who, for regular Channel 19 readers, probably needs no introduction — Scott Grenerth, former owner-operator and longtime parking-issues advocate who now works for the Truck Specialized Parking Services company, provider of the RigRest platform for parking reservations, including some nontraditional-type opportunities.
Speaking of the nontraditional, his guest post here seeks answers from you to the question in the title here, which has been on the minds of national-level transportation research groups Grenerth participates in, often enough with a mind on just what sort of research could be impactful to the needs and desires of professional truckers on the road. Since the Federal Highway Administration in early April announced it would not enforce the prohibition on states' allowance for private food-truck services at rest areas throughout the national COVID-19 emergency (still in force), there's plenty evidence some states and food trucks put in place systems to take advantage of such enforcement waivers in an effort to better serve professional drivers' on-highway sustenance needs. As I wrote early in the pandemic period, "Where's a trucker supposed to eat" when, as was the case at the time, so many diners and restaurants closed, or were forced to close, their doors?
Yet there's also evidence the uptake by states and local food-truck operators was by no means universal, and in some cases questionable in basic utility given advertising limitations. (How can an operator plan around available options if he/she doesn't know they're there.) In any case, consider here Grenerth's (well-considered itself) distillation of the issues with a hope for the discussion informing other federal planning efforts around more common and contained/targeted disasters like Hurricanes and the like.
April 3, 2020. This date was significant in multiple ways. The United States was experiencing the quick spread of a very contagious virus. For the first time in my memory (other than localized incidents due to natural disasters), there were actual shortages of items on the shelves of stores, most infamously toilet paper. Most relevant to this discussion, truckers could not rely upon truck stops to find a meal or even in some instances a cup of coffee.
While the totality of lockdown orders varied from stop to stop, city to city, and state to state — or even among regions of the country — there was a real challenge that could find a trucker digging into any stache of food in the cab. The need for that other fuel that keeps drivers rolling found some large truck stops able to shift employees to pour coffee, rather than their usual dispensers that would find many different hands touching the spouts all day and night. Many others could not accommodate this, which could leave those who avoid sugary caffeinated beverages in a pinch when the need for a cup arose.
Even owner-operators who are more self-sufficient than most reported they found themselves in a fix at times.
With increasing numbers of cities, counties and states implementing restrictions to reduce the impact of COVID-19, which spread this problem to other areas, some non-trucking media outlets even picked up on this situation and interviewed truckers. It all led to action that the Federal Highway Administration (FHWA) took on April 3.
For much of the last century, commercial activity at public facilities along federal highways has been limited to limited-access toll roads and others grandfathered into the national system. The only permissible activity nationwide are vending machines operated by the blind. In April, FHWA changed that with a Notice of Enforcement Discretion which stated that through the duration of the National Emergency the FHWA would not enforce the prohibition against commercial activity in order to allow states choosing to participate to allow food trucks in rest areas.
The temporary action had no set ending date. When the National Emergency Declaration ended, the restriction would be back in place.
Almost immediately, a few states had programs in place and food trucks in rest areas. Arkansas, Indiana and Ohio were some of those states. In Ohio, approximately 275 applications were submitted to the Ohio Department of Transportation by food-truck operators to set up in Ohio's 86 rest areas. It is clear that not every one of those food trucks actually set up in a rest area. What is also known is that by the time Ohio permitted the reopening of restaurants in mid-June, only two food trucks were still set up in rest areas for that final week when they were permitted (Ohio chose to end the program when restaurants were reopened).
Two states, California and Colorado, extended their programs at least through July.
After hearing from more than 60 individual truck operators across the country, it is clear that some states either chose not to participate or encountered roadblocks to participation. Through conversations with Florida DOT staff, I learned that they did explore the option, but found that the process would be incredibly difficult and take a great deal of time due to the structure of their regulations and required processes, which are well-intentioned. Of note, Florida DOT was able to coordinate some food donations to truckers in their rest areas.
Meanwhile, in Ohio the process only required the food truck operators, who already meet health department regulations, to fill out a free application and basically to follow one rule — to not compete with the aforementioned vending machine operators. They were not permitted to sell canned sodas but were very explicitly told they could sell freshly made coffee.
In my conversations with a myriad of truckers, the three states of Arkansas, Indiana and Ohio repeatedly come up when asked where food trucks were spotted and/or utilized after the FHWA notice. Most commonly, a professional driver was able to take advantage of a food truck after he or she had previously noted the presence of one and was then able to plan the stop. Or: He or she heard from another trucker about the presence of the food truck. It is clear that utilizing a system such as a state's 511 website or app to allow truckers to find where a food truck would likely be positioned could have been a big benefit to the truckers, and to the vendor hoping to earn income.
I am part of a committee that researches transportation issues. We are working to dive into this issue and identify if this action by FHWA met the intended purpose of helping truckers access food during a time when it was challenging to do so. I have initiated reaching out to state DOTs to find out how it worked on their end. While we all hoped this pandemic would be over with yesterday, the reality is that some states have re-tightened some restrictions on businesses like restaurants. According to TA Petro's location sites for both Country Pride and Iron Skillet restaurant statuses, many remain closed today.
Furthermore, with the entire East and Gulf Coasts of the country being susceptible to hurricanes causing widespread power outages and further destruction, it is possible that lessons learned from the COVID response could inform future response, even if on a more regional/local scale.
When it comes to food trucks, what did you see on the road? Did you ever see a food truck in a rest area? If yes, was this only during the very early few days of the pandemic period in April, or did that food truck's availability persist present into May, into June?
What states did have food trucks?
Lastly, did this action by some states help you?
Those with information to share can drop a comment under this post or the poll question above, or email Scott Grenerth directly via this email link.