File under: Pictures of the week?
Owner-operator Vince Crisanti sent along these pictures of two "No Engine Braking" signs with a warning to municipalities about the grammarians out there running the roads. There are plenty of us that well remember what we were taught in elementary school about double negatives.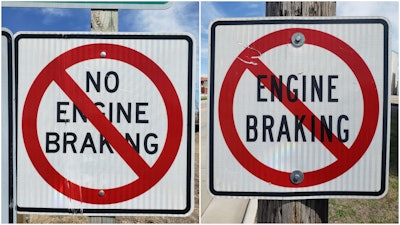 Crisanti had been rolling through such-and-such tiny town in such-and-such rural county in such-and-such breadbasket state a couple weeks ago when he noticed one such sign. All well and good, but as he was slowing, mentally processing the reality of the engine braking prohibition in the town, and before the first sign was even out of eyeshot, yet another sign saying exactly the same thing appeared up ahead.
For a grammarian who also drives a truck, he thought, that might well be interpreted as a signal to use the engine brake not once, but twice!
There's something there, I dare say, about unintended messaging -- and/or the unintended consequences of overactive signage! ... (Any grammar snoots in the audience might well get a laugh out of it, too. You're welcome.)
Still no electronic logging devices on Canada's ELD registry
I thought I was on the verge of a rediscovery when owner-operator John Dehaan of Grand Rapid, Michigan-based General Die & Engineering reached out with info on a no-monthly-fee ELD service he'd found in the wake of the Continental VDO RoadLog's sunset. "I was looking around for a no-monthly-fee plan since VDO went," he said, and he found it in the HOS 247 ELD. "The service is good when I've had a question; I have a dedicated person that will help me with any problems I may incur."
The only downside? He's been unable to effectively run GPS with the tablet he's using dedicated to the ELD set-up, given the talbet's limitations itself. "I just use my phone for GPS" when needed, he noted.
Another in that once-holy grail of a no-monthly-fee device? I'd talked to HOS 247 in pre-mandate times, and did seem to recall a no-monthly-fee promotion, but the company's website when I checked after hearing from owner-operator Dehaan noted a minimum $17 monthly for service in the most basic package. General Manager Dzmitry Kukharau noted a prior no-monthly-fee option when bundled with other services through which "ELD service was subsidized," he said. Yet "we no longer offer a no-monthly-fee ELD option."
Kukharau went on to say much of what others have told me about keeping up an effective support structure for ongoing service to ELD customers: "ELDs require a high level of support and quick issue resolutions – we find the no-monthly-fee model to be not sustainable in the long term without compromising the quality of service."
Strike one, there. Kukharau also wondered whether we'd covered what's happening with the Canadian ELD mandate, given when he was speaking last week, and as is the case today, still not a single device had as yet been approved in Canada's third-party-verified registry for devices there, just five months out from the June 12 mandate implementation date. "It takes time to equip fleets and train drivers," Kukharau noted, as the small fleet owners in the audience will well know. "Also, there are thousands of Canadian and US-based cross-border carriers that would have to replace hardware and train drivers on very short notice unless their current ELD providers get certified in Canada on time," which he believed may well be "very unlikely" given expectations for turnaround from the third-party certifying body working ELD supplier registrations for the Canadian system. That group's suggested six weeks could be required for each device.
"We may be looking at the major cross-border logistics disruptions if the [June 12] deadline is not extended," Kukharau said.
Strike two? Transport Canada, the nation's federal governing body for motor carriers, has indicated little willingness to extend the date as yet, though calls for them to do so have grown in recent months.
Maybe two negatives, though, could make a positive here. If only the rules of grammar applied.