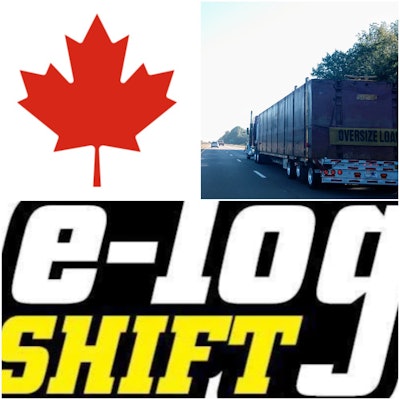 No. 1 on the priority list, perhaps, is that it's set for full implementation and enforcement in under a year — June 12, 2021, will be Canada's Dec. 17, 2019, so to speak.
That's right: Unlike in the United States, where a two-year grace period was given for older-style AOBRD devices, such a transition doesn't exist in the Canadian rule as written. Generally, given so much of trucking north of U.S. borders involves movement south of those borders, too, for many Canadian carriers that lack of a grace period may not be that big of an issue — the rule in general is quite similar to what's in place on this side of the border.
With significant caveats: Since finalization of the mandate last year, Canada has been slow to implement key elements of its process to certify electronic logging devices themselves, which carriers must use to be compliant. With fewer than six months until full implementation, there is still not a single device listed on its registry of certified devices. In the U.S., as my story from mid-2016 makes clear, more than three years prior to full implementation the infrastructure, at least, was in place for determining whether a device was available to use or not.
And as Overdrive reported in 2019, unlike in the U.S. Canadian officials set up a third-party certification regime for devices to be approved in Canada, and those third parties have to get accredited themselves, said Mike Ahart, Omnitracs vice president of regulatory affairs, when we spoke earlier this week. Again, with just six months left before most carriers hauling in Canada will have to use a third-party-certified device, there is currently only one accredited third party doing this certification listed on the third-party registry. That company, Quebec-headquartered FP Innovations, was announced as an avenue toward certification only in late October this year.
That's led some in Canada to call for a deferment of the ELD mandate's enforcement deadline by at least six months. As if the COVID-inspired supply chain issues weren't enough, "as the deadline continues to approach, with no certified devices available, it will cause major chaos and disruption to the trucking industry" if something doesn't give — Those were the words of Mike Millian writing in the Today's Trucking publication. Millian's president of the Private Motor Truck Council of Canada, analogous to the National Private Truck Council (NPTC) private-fleets group here in the U.S. Millian wrote that he and several other groups favor at least a six-month move of the deadline date.
Asked today whether he felt a move toward delay was likely, Millian offered that "publicly Transport Canada is still saying the June 12, 2021, deadline is firm."
Millian added that he personally believed an "enforcement delay is inevitable." Regulators, though, would probably "wait it out until they have no choice." Fewer than six months from the deadline with not a single device approved, "how they, and a few others in the industry, can believe this deadline is still reasonably achievable with out causing confusion, chaos, and undue harm to the industry is beyond me." The firmness of regulators' "stance on remaining with the current deadline, to be blunt, is nonsensical."
Omnitracs, one of the biggest suppliers of ELDs in the United States, has only recently made contact with FP Innovations affirming they are ready to begin testing. Another reason for Omnitracs and no doubt other ELD suppliers' delays — further changes to the Canadian ELD mandate's technical specifications came with the late-October announcement, said Ahart. "Everybody had to change what they were doing. It wasn't a huge change," he said, but engineering a system over multiple product lines is certainly no overnight process.
While there are several considerations for those among you who haul into Canada, the big question left to be answered is whether the device you're using now will be certified in Canada in time for the mandate. Ahart recommends keeping up with developments north of the border as time goes by, and if you're utilizing a small-market ELD, be certain your provider is actually going through the process of getting the necessary third-party certification. If not, you'll put yourself at risk for trouble at roadside.
"Just because your device is self-certified in the U.S.," Ahart said, "it may not be OK to use in Canada. You better be talking with your ELD provider" to be sure of that. Can't get them on the phone at all? You may have a problem come 2021.
What about my e-log-exempt pre-2000 engine?
Transport Canada, the regulatory body overseeing the mandate implementation, did offer a similar exemption for pre-2000 model year trucks, yet it remains in language that exempts such units by model year of the truck chassis, Ahart noted, not the engine. Regular readers will recall FMCSA's 11th-hour decision to change that model-year exemption guidance to be tied to the date of manufacture of the engine, not the truck, exempting an untold number of glider-kit owners.
Canada hasn't done that yet, and it's unclear if they will, Ahart said.
For what it's worth, Millian sees a change from the status quo here unlikely. "I don't foresee any changes being made to the model year versus the chassis year up here," he said. There just "does not seem to be much of a push or desire for it."
The personal conveyance difference
Anyone who hauls in both Canada and the United States is probably aware of the way the Canadian hours regs approach personal conveyance — there's a hard 75-kilometer (47-mile) cutoff for any legal PC use and the vehicle must be unladen, Ahart noted, unlike some kosher PC uses in the United States with guidance of recent history.
What's new about PC treatment in the ELD rule — and significantly different from how U.S. ELDs approach it — is ELDs will be required to "automatically switch you back" to the drive line once you reach 75 kilometers' worth of PC in Canada, Ahart said. "We're still trying to develop an understanding of what happens if a driver has been driving in PC in the U.S. and they reach the Canadian border."
While the ELD mandate does not lay out the cross-border calculation, talk to law enforcement groups like CVSA and they note that "PC in the U.S. counts toward PC in Canada. If you were pulling a trailer in the U.S. on PC, when you get to Canada, that's driving, because you weren't unladen," Ahart said.
Navigating such specifics will be a challenge for device programmers, as are required compliance assist tools like a 30-minute warning reaching the end of a cycle — the U.S. rule did not require such tools, though most ELD providers offer them in varying forms.
If it's safe to assume Canada doesn't, furthermore, liberalize the use of PC the way the U.S. has — for times when drivers are woken by law enforcement, or need to find the closest safe space to park after exhausting available hours with a shipper/receiver delay — the rule requirements may just compound the situation of the trucker's hopelessly "jacked-up" log when a driver makes a simple mistake and forgets to go to personal conveyance, breaking up a berth period. The solution is to annotate the log for evidence of an officer down the line and go on your merry way, yet countdown clocks and other compliance assist elements required to be shown by Canadian regs "will show the driver in violation. Thirty-minute warnings will be popping" by requirement of the rule, Ahart noted.
Without 100% driver and enforcement understanding of these issues, Ahart added that he believed unnecessary citations could be the onerous result. Only British Columbia, he said, has a dispute process analogous to the U.S. DataQs system to deal with irregular/erroneous violations. In remaining provinces, "you're going to court. That's the only way to get [a citation/violation] overturned."