We've heard of appointments made and scheduled weeks and months in advance. We've also heard the opposite, potential vaccine recipients who may or may not be in an age or occupation group at the front of the line in a state getting a call for leftover dosage at the end of a long day -- with just 20 minutes or a couple hours to get there to receive it.
For a long-distance owner-operator, of course, the former is the best bet in the absence of a walk-in option on the road (NATSO, NASTC, ATA and other trucking groups are arguing for truck stops to be vaccination sites for commercial drivers, as was in the news Friday, with part of that being to open up the opportunity for the second dose of Pfizer and Moderna vaccines to be administered in a different location than the first).
Owner-operator Bill Ater, who lives in Tarrant County, Texas, is 65 years old. When public health authorities opened up distribution to residents of his age recently, the health system he typically uses for medical matters told him they were scheduling recipients for their dose from a sign-up list administered by Tarrant County officials.
Ater jumped at the chance to sign up, but completing the process delivered this news to him: They basically "told me they'd give me two days' notice of an appointment time, in four to six weeks." To my ears, if that's going to work I suppose you could plan a two-week vacation for that period between four and six weeks out, sacrificing however much income per day, and maybe it's worth it if it all ultimately saves your own or somebody else's life.
At the same time, Ater said when we talked last Friday, "I could buy a lot of masks with that money."
Anybody else face such a tight vaccine-scheduling window requiring you to be home or at the very least very near it?
Most of you, I imagine, are like most of the rest of us in the United States and haven't seen any sort of possibility of a vaccine as yet. Most regions seem to have moved beyond health-care workers and nursing home residents into those blanket older age groups, regardless of occupation. Though the lion's share of broader trucking is in age groups below 65, there are many at or above that threshold, like Ater.
The news this week that Johnson & Johnson's one-dose vaccine, developed using vaccine methods that are much more conventional than the early Pfizer and Moderna shots, would soon be available could prove a boon to efforts to reduce the pain of those scheduling snafus that exist by half, to say nothing of the potential to bring a larger number of vaccine takers into the mix. Very early on in the vaccine rollout -- during the first few weeks at the end of 2020 and the beginning of this year, in fact -- almost half of respondents to Overdrive polling noted they planned not to take those first two available vaccines.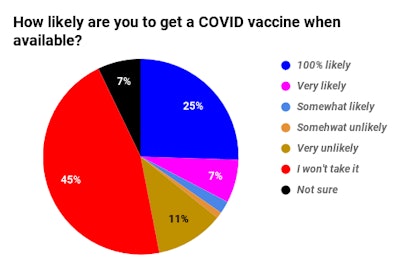 Among the approximate third of respondents to above polling who indicated a greater or lesser likelihood they would receive the doses, commenter "JP" questioned those who planned not to. A very early recipient, when he commented JP had already taken the first dose of the Moderna vaccine. "Don't be fooled. Get vaccinated. Save yourself and your family. ... We are all in this together." The commenter added, addressing skeptics, "When people are dying of the virus and you have a chance to prevent, why wouldn't you?"
One dose of a traditionally developed vaccine versus two made with an entirely novel though quite effective approach might sway more of the skeptics. That single dose, too, could make delivery to the mobile workforce that is the entire professional driver population more efficacious -- perhaps even at truck stop locations as NATSO and others have proposed.
A single-dose vaccine should "make it easier for truck drivers who are challenged by the need to return to the same location at a specific date and time for a second vaccination," said NATSO's Tiffany Wlazlowski Neuman. "It's vital that the CDC recognize the unique challenges that truck drivers face in accessing vaccines while driving a commercial vehicle and take those needs into account."
Back in Tarrant County, owner-operator Ater ultimately got his first shot on Saturday this weekend, he said, after we'd talked initially Friday. How'd he manage to jump ahead of that four-to-six-week delay -- and two days' notice at that point -- that he'd been advised of? He emailed his concerns to the health system where his physician practices. "Just had to explain my situation to the right people, I guess," he said.