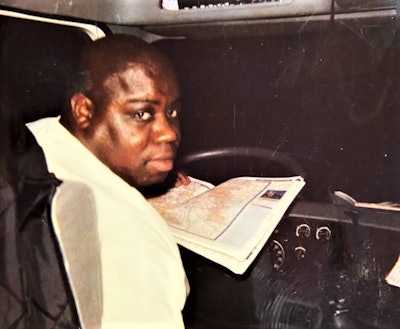 What's in Eddie Spearmon's future? The former owner-operator turns 57 in early August, for one. If everything goes according to plan, he'll also soon be the recipient of a kidney transplant and begin recovery and a hoped-for return to the road, he told me this morning. After nearly six years away from OTR, he said, "It's in my heart, and I just want to get out there."
Spearmon, who's based in Fayetteville, North Carolina, was diagnosed with end-stage renal failure in 2015. His daughter Shakirah Spearmon said this has led to dialysis treatments that now occur in six-hour sessions three times a week. "If he doesn't go to the dialysis clinic, he gets really sick," she said. Her father's predicament has been compounded by repeated surgeries to remove his kidneys after possibly cancerous masses were located on each of them.
Spearmon started working in trucking "straight out of high school," his first job driving with J.B. Hunt before he hopped through a few different companies leased as an owner-operator in subsequent years. The last driver's seat he occupied was in a mid-2010s Freightliner he was leasing with the intention to purchase with Mesa Trucking, a family-owned company headquartered in Chicago. "We pulled inserts for newspapers" manufactured by an Indiana-based company to "take all around the country," he said, on often multi-stop runs. When the dialysis necessity arrived, "I knew I couldn't drive any more."
[Related: You failed your DOT physical. Now what?]
His health difficulties haven't stunted his ambition to get right back on the horse, possibly as a team with his son Amir, in his late 30s, and haul independently. "I want to start my own company with a truck, and maybe add another one or two," he said. Spearmon is No. 3 on the transplant wait list with a Chapel Hill, North Carolina, medical center. "Now we're just waiting for a donor" to be identified.
Social Security disability has helped with medical bills throughout his rounds of dialysis and surgeries, yet he knows that post-transplant medications will be required to help deal with the human body's potential rejection of an organ. He and his family are working with the National Foundation for Transplants in an effort to raise money to help offset those expected expenses. (Read more about Spearmon and his story via that link to the page the foundation facilitated for the family.)
"I miss traveling, seeing the countrysides -- I miss going all over," Spearmon said in response to a question about just what he most misses about the trucking life. "I had a lot of trucker buddies who were good to me out there, with plenty of good conversations."
The progression of his illness has "been rough on me and my wife," Ernestine, "and everybody trying to help me out," he added. Yet "I figure I can get back to work and give something back to everybody that's helped me."
Despite a deep well of trucking friends, Spearmon also brought up the decline in driver-to-driver camaraderie as increasing communication abilities with technology have put up a sort of bug-shield blocking the normal flow of personal interactions for so many. Which brings me to the second daughter to reach out to me about her father in as many days -- Angela Taylor, Talbott, Tennessee-based daughter of nearby Morristown diesel shop owner Gerald Sapp.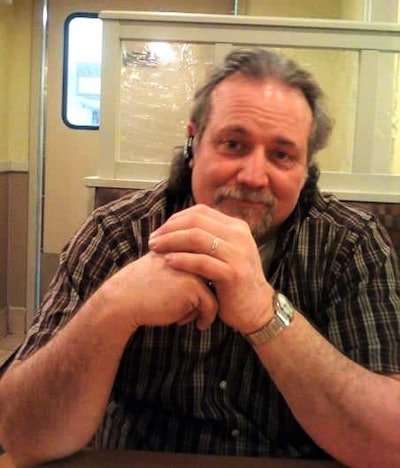 One week ago today Sapp was in his pickup pulling a small car-haul trailer in Kentucky when he stopped for a rest break at the rest area on WB I-64, around mile marker 60 in Midway, Kentucky, about 20 miles outside Lexington. Naturally, having lived and breathed diesel for his entire working life, Sapp pulled his Chevy 2500 into a parallel-parking spot behind a white tractor-trailer. When he got out of the pickup, though, he noticed a potential oil leak in a spot under the front end.
He hit the parking brake and "thought to check the oil," Taylor said. As he was doing that, "the truck in front of him ... pulled forward a little bit and angled his truck and then backed up and hit my dad," pushing the pickup back far enough to cause the trailer to jackknife out into the lane by which it had been parked. Sapp was pinned between the 53-footer and the front of his pickup, suffering major breaks in his pelvis and legs.
The driver of the truck didn't hang around for the aftermath, and local police continue to search for him/her, as do thousands of others who've read Taylor's online pleas for information.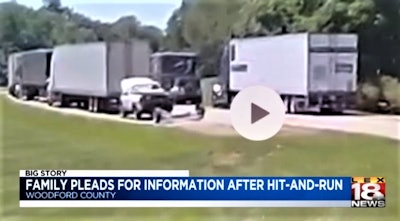 While it's almost certain the big truck's driver did not see Sapp to begin with, other drivers on-scene, Taylor, and police, she said, "don't know how he couldn't have seen" Sapp as the collision proceeded. Ultimately, "the guy just left," driving away. The force and duration of the impact "pushed the radiator and the fan of my dad's car into the motor." Sapp is undergoing surgeries in the University of Kentucky's hospital in Lexington's intensive care unit.
He's expected to be there a long time, Taylor said.
Meanwhile, she's spent every free moment reaching out to trucking companies, drivers, truck stops with shops who may have worked on a damaged trailer -- the police have only part of a license plate and/or DOT number from available dashcam footage of the scene, she said, and only a general description of the tractor and trailer as white. She urged anyone who may have been in the area up to 10 hours before the incident last week Tuesday, June 22, at around 2 p.m., to check dashcam footage for potential views of the incident.
As her owner-operator cousin -- her brother also drives for the cousin's G.W. Maynard & Sons Trucking company -- told her, "If police can't find [the driver], we'll find him," meaning not just the family but the trucking community writ large. "'Keep your ears on,' I said," Taylor continued.
Taylor set up this page with information for those who asked how they could help Sapp in her community.