The Transflo company's Transflo Mobile+ smartphone application for drivers updated this week with a significant addition for independent owner-operators and small fleets -- the "Mobile+ Lite" free version announced earlier in the year. The Lite version aims to further standardize the app as a go-to for independents in their transition to what Transflo Senior Vice President Doug Schrier called the "digital ecosystem" through which movements increasingly are managed.
That transition, as any working owner-operator or driver likely well knows, hasn't always been simple -- or as efficient as it could be. App overload, particularly for owner-operators working through multiple brokers, has been a fairly routine frustration going back almost a decade now.
[Related: Detention, parking, app overload: Hot button owner-op issues explored]
A drive to combat that phenomenon was a distinct part of how Schrier and Product Management VP Andrew Fulton described the company's moves toward the "Lite" version to improve accessibility and usefulness for owner-operators. I sat down with the pair at the Truckload Carriers Association's Truckload 2021 conference a few weeks back to talk through just that.
The Transflo mobile app has been a reality since 2009, with "features to automate everything the driver has to do" in terms of communicating with the back office and/or their fleet's customers, said Schrier. Everything from document management (bills of loading/proofs of delivery) to a now long list of features included -- integrated weather reports, emergency roadside assistance finders, integration with CAT Scales and loyalty apps for Pilot Flying J, TA TruckSmart, and Love's, and consolidating applications on drivers' phones and tablets. All of that is now also available in the "Lite" version to owner-operators.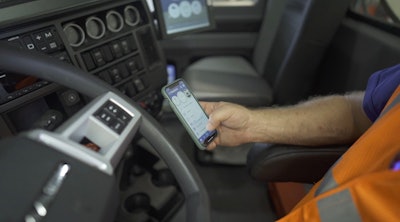 But perhaps most importantly, Transflo a couple of years ago launched its Velocity+ product for brokers, which Schrier said now has "well more 350 brokers on the platform, including the top ten brokers in the nation." The Velocity+ platform helps facilitate invoicing and other paperwork flowing between brokers and those in their carrier networks. "Combine it with the mobile application we have built out for the carriers," and owner-operators have the makings of a mobile back-office that also can be enabled for tracking to eliminate brokers' check calls, among other benefits, he continued.
With days to pay waits from many brokers coming down as many compete to keep owner-operators happy running freight within their networks, having your invoicing process within a mobile digital ecosystem like this holds potential to speed things up further, freeing up home time in the past devoted to those processes. "When they complete their load," Schrier offered as an example, "they have everything they need to invoice their broker and they don't need to worry about that when they're back home."
The ability to enable tracking with updates at regularly-spaced intervals going to the customer, whether broker or shipper, as long as they're utilizing Transflo, might well help with the old app overload phenomenon, too.
"What we're trying to do is become a one-stop shop" of sorts, said Schrier, for owner-operators' mobile-office needs. To date, "what you've had is a very disconnected experience" with the migration to digital transactions/paperwork handoffs. "We're trying to reduce the number of apps from all these different customers." While big players like an Amazon, he said, can "force you to use their mobile applications," most carriers and owner-ops are reliant on a multitude of customer brokers/shippers, too often with different approaches to the digital handoff.
Take an owner-operator who may "deal with 10 brokers" over the course of the year, Schrier added. "If eight of them are on the same platform, it helps tremendously."
Release of the "Lite" version of Transflo Mobile+ came along with a 5.0 update to bedrock Mobile+ functionality. That update also introduced multi-fleet profiles that make job transitions quicker and easier for drivers, and for fleets, simplifying onboarding of new operators. An updated menu allows users to better manage passwords, add a user profile and image, and make changes to their email address and phone number. Transflo Mobile+ 5.0 also now offers the option to enter the app via biometric reading such as face scan technology or fingerprint, providing a more secure, quicker way to access the tools therein.
You can find the app in marketplaces for both iOS and Android devices.
[Related: Covering your tracks: The brave new world of 'freight visibility']