Sometime summer field-to-processor produce hauler Dave Dein, principal instructor in the Paterson, California, high school's landmark trucking-instruction program, was familiar with Wreaths Across America. He knew it well in association with trucking's big role in donating time, diesel and much effort to the long-running program, which honors American military vets by laying wreath on graves all across the nation.
In the mind of the Californian, though, Wreaths was an East Coast event, given the huge profile of the main even at Arlington National Cemetery, where this was the scene last week Friday when the Wreaths delivery convoy arrived in D.C.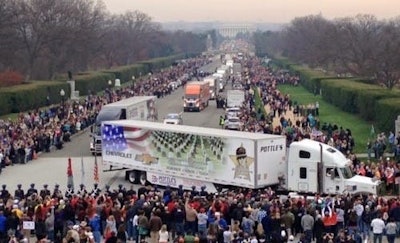 Far from those crowds the following day in quiet San Joaquin Valley National Cemetery, though, a small group of volunteers was in the process of laying more than 4,000 wreaths, and Dave Dein and students were among them.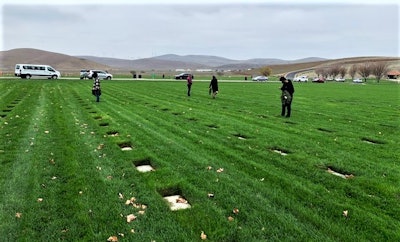 Just two weeks prior to that, Dein was like so many inside and out of trucking, as noted, not aware at all of the national scale of the Wreaths Across America event. He read a story about Raymond "Joe" Brooks Jr., who won the state of Nebraska's Truck Driver of the year. Those honors, Brooks told the reporter, meant little in comparison to the honor of hauling wreaths in the Wreaths Across American program, he said.
Dein got to thinking: "My dad's buried at a national cemetery," he said, nearby San Joaquin Valley, and he realized "sure enough they were going to have a Wreaths event there." The cemetery is isolated, not close to any major population centers, yet it's a sizable cemetery. Around 4,000 wreaths laid this past Saturday accounted for just 11% of the total number of graves there.
Dein put a quick plan of action in place, and he and his students were able to locate the local coordinator and volunteer their time.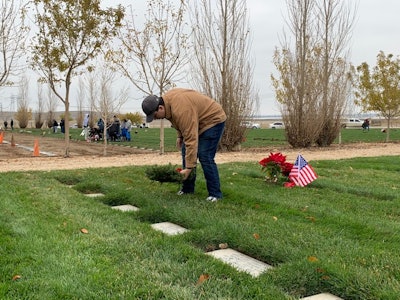 The day was extra-special for Dein, whose father's experience in World War II he says inspired him to go trucking as young man.
"As a small child I was able to hear all of his stories of adventure as a truck driver," he said, hauling for "four and a half years in the South Pacific" in various locales. "I knew when I grew up I wanted to have my own story, somehow."
The cemetery where Philip Dein is buried is about 40 miles south of Paterson, where Dave Dein lives. The elder Dein didn't stay in trucking after he got out of the military, rather spending much of his working life as an electrical technician for a missile supplier. Yet "those stories growing up were so impactful," his son said. "He was a truck driver and they did their own maintenance. They knew how to change their own tires, and some of the runs were top secret missions bringing fuel to a secret air base, driving three days without sleep. Those stories really grabbed my attention."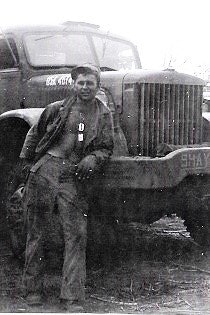 Dave Dein started driving in 1988, then using the local/regional work to finance a college education. He graduated with a business degree but went right back to work hauling for Frito Lay before getting the call to teach. He didn't leave trucking, though, through it all, driving part-time on weekends and during some summers, which he did for the first in quite a with a former employer, the Morning Star company's produce outfit, just this year.
With all the supply-chain issues in 2021, particularly stark out West, Dein wanted "to be part of the solution," he said, in a manner perhaps more direct that helping build the next generation of truckers through his high school's program. He called Morning Star and worked the harvests with them in his area through the summer, donating his salary to the Next Generation in Trucking Association, a nonprofit he helped found.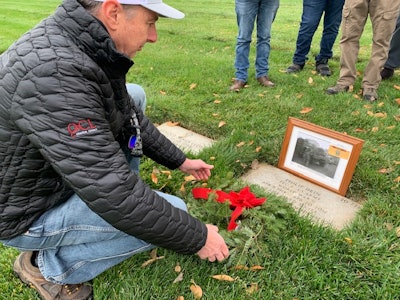 "This is our fifth year with the program" at Paterson High School, Dein said. "It keeps evolving in terms of the curriculum." He's utilized two driving-simulator machines extensively in years past, in addition to some donated truck equipment, but this year "I'm incorporating golf carts into our training" with eye on further novelty in ways to connect with the students. He's hooked small trailers to the carts and "set up a miniature backing course" for students to run with them.
[Related: Former hauler Dave Dein and partners bring trucking to high-school curriculum]
With the association and new monies coming into it, Dein's aimed to "create scholarships for underserved students who don't have the resources to pay for a [CDL] school themselves."
As for next year's Wreaths event at San Joaquin Valley, he's hopeful to stay engaged and get more involved. Through the school and the association, "we've got some great trucking industry partners" he's sure would be willing to help out, whether sponsoring wreaths or helping lay them. "I always thought Wreaths was just at Arglinton" National Cemetery he added. "I had no idea it was across the U.S."
You can be sure a lot more people in his area next year will know better, too.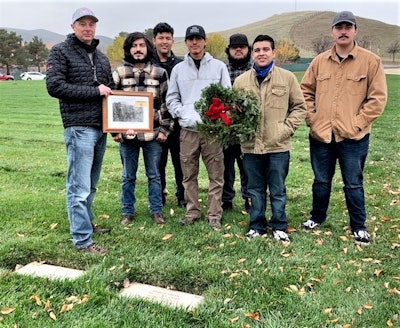 [Related: Wreaths Across America -- an early delivery in Nashville]