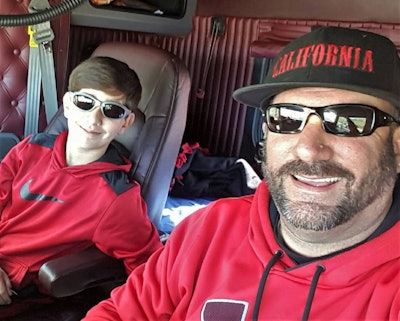 This week, as we start to really look ahead to 2022 in earnest, this is something of a look back to a remarkable story told by small fleet car-hauling owner-operator C.G. Soza of Atwater, California, earlier this year. There's a reason its back on my mind now, too. Soza's first foray into nonprofit work that accompanied his first time organizing and promoting a truck show this past June is showing clear signs of being much more than a one-off event.
The A.J. Soza Memorial Truck Show's second edition will take place June 24-26 at the Merced County, California, Fairgrounds, Soza said. "This year we will be on asphalt and are in the works to solidify the stadium for our first truck derby. Also, an all-new judging system and judges are being organized."
Considerations are in play for a classic pickup show in conjunction with the truck show, and more. Hats off to the small fleet operator, whose business we profiled on the occasion of his top-10 placement in this year's Small Fleet Champ competition, for committing to a cause near and dear to him, and honoring the memory of his son and previous wife, who tragically passed in 2016 in a car accident.
[Related: Soza Trucking builds solid foundation in car haul]
In the years of growth charted in our prior story about the Soza Trucking business that followed in the aftermath of that accident, owner-operator Soza struggled particularly with the youngster's passing. "You're never in the mind-set of having to bury a child," he said. "That was very, very hard on me."
Given both he and young A.J. Soza struggled with dyslexia, he felt obligated to do something with his business success to give back. The young Soza had to travel outside Merced County for tutoring, as had C.G. as a child, given the county just didn't have a specialist capable of what was needed. "I thought, 'What better way to memorialize my son'" than to name a truck show after him and establish a foundation in his name dedicated to bringing such specialization to that very community.
Both goals are off to a great start.
The first Soza Memorial Truck Show this past June drew more than 100 trucks to the Merced County Fairgrounds, raising more than $19,000 to get things off the ground – and then some.
He's also established the A.J. Soza Foundation for Dyslexia. "I'm going to bring tutoring and testing to Merced County so kids don't have to travel like my son had to do," Soza said. The goal is to pay for both testing and tutoring "for those families that can't afford it. For one student to get tested it's about $800. A year of tutoring once a week for 48 weeks is roughly $4,800." With the money raised via this year's show, minus some start-up expenses for the foundation, he estimated "we could test and put three individuals through a whole year of tutoring."
In some cases, that full year may not be enough, he knows. "It can take up to two to get their minds settled back out," he said.
The truck show will be a direct source of support, of course, and is now officially set for Round Two come this June.
Hope to see you there.