It's been quite a long time since I've heard from longtime independent owner-operator and independent dispatcher Gary McGaha, of Gary's Fleet Service, based in Phelan, California. More than 10 years ago now, I spoke with McGaha at length about hotshot flatbed work, among his specialties. Back at that time, he says today, "I think we were probably working for 25 to 30 independent owner-operators" for dispatching. "Over the years I've reduced that number substantially. I just figured out that we can do a lot better job for the guys that we work for if we keep the numbers of guys we're helping lower."
That's helped immensely with the kind of pre-planning any independent on the top of his/her game loves to be able to accomplish before setting out from the home base. "I found that we're able to pre-book reloads for them usually before they roll out under their outbound loads," McGaha said of improvements made to the service over the years, "and it gives me more time explain things about the business to them."
[Related: Hotshot trucking retains its fundamental allure]
Yes, there's a definite mentoring aspect to what the longtime trucking veteran does, in partnership with good freight brokers and some shippers, too, who "continually offer loads for the guys we're trying to help here," he added.
Part of the reason McGaha reached out was to share a securement-related accountability, training, and bedrock safety strategy he's put into practice for around two decades now in partnership with every owner he works for. He gets to the details of that in a well-considered guest column for today on the Channel 19 blog below.
Essentially, though, the business owner and his owner-operator clientele are going the extra mile for extra certainty around open-deck securement.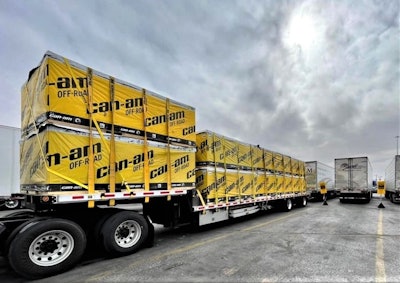 McGaha's commitment to his clientele, and the shippers and brokers he works with, has paid off time and time again throughout the years for all parties involved.
"A while back I took on a new guy, fresh out of school," he said. "I had some business with the shipper he was picking up his first load at, so I worked it out to be there when he arrived to load." Good thing, in this case -- the shipper was one that McGaha had done business with for more than three decades, and the relatively new driver "didn't have some of the equipment he needed to tie down the load. I ended up using some my own tie-down gear to help."
It was obvious the new owner needed it. "I showed him how I've been tying these same loads down for decades," McGaha said. The shipper, meanwhile, also got a securement lesson, of a fashion, watching McGaha "physically help the owner-operator tie his load down and explain things to him."
About an hour later, the worst happened: the owner was cut off on the road and jackknifed. "He wasn't injured, but his truck and trailer were both totaled out. The load, meanwhile, "didn't move an inch and the only damage to it was a small scratch where the mirror on his truck made contact with the freight. It just needed some touch-up paint. The shipper took care of that scratch at no charge to the owner-operator."
The following was written by McGaha himself about his securement-review procedures, something he feels any multi-truck fleet doing flatbed work ought to have in place. Will it take a little time for back-office personnel? "Sure it will," he writes, "but it'll be next to nothing compared to what they're paying out now in damaged cargo claims, loss of equipment and in lawsuits settled for injury and loss of life.
Double down on securement with this strategy, proved out over 20 years
I've had a policy at my company now for roughly 20 years. This policy is something that would be very simple, and inexpensive, for other multi-truck companies to implement. It could potentially save many lives, and untold millions of dollars in insurance claims and lawsuit settlements every year.
In my dispatch service, I help a lot of new, relatively inexperienced owner-operators get started. An idea that I came up with approximately 20 years ago was for owner-operators using their cell phones to text me pictures of their loads tied down, before they pulled out of a shipper. Why? I wanted to help ensure the loads that we booked were tied down correctly. I didn't want anybody I worked for going down the road with a load that wasn't properly secured. I didn't want anybody getting injured or killed; an owner-operator getting securement tickets, getting damaged-cargo claims; and I didn't want other motorists getting hurt or killed because a piece of freight fell off the trailer.
I also wanted to make sure the shippers and brokers I get work from didn't have to worry about their cargo getting damaged in transit.
Since I came up with this policy, I don't think there's been a single damaged-cargo claim turned in to an insurance company among the owner-operators that I've worked for. Twenty years without significant damage to a load, without owner-operators getting improperly-secured-load tickets. I think that's saying something about this policy, especially since I start many new owner-operators here with zero flatbed experience.
[Related: Beware what you sign with brokers: Freight payment offsetting of cargo claims a 'sucker's game']
It's hard to find someone without a cell phone today. It's simple to text a picture of a secured load to the office before a driver or owner-operator leaves a shipper. I immediately review those pictures, zooming in on the tie down, looking for any potential problems.
If I spot something I immediately pick up the phone and call the owner-operator to discuss what I'm seeing wrong with their load securement. If the load appears to be properly secured, I text them a thumbs-up and they roll out with it. In my opinion, every multi-truck company doing flatbed-type work should implement this same policy. Reviewing the pictures would be a perfect job for very-experienced drivers who have been sidelined for medical reasons, or even part-time work for retired drivers.
I'm a small business. It only costs me a little time to check securement pictures via text. Will it cost a larger carrier to implement this policy? Sure it will, but it'll be next to nothing compared to what they're paying out now in damaged cargo claims, loss of equipment, and in lawsuits settled for injury and loss of life.
It'll make our roads much safer, and this policy will immediately improve the carrier's safety rating. --Gary McGaha, Phelan, California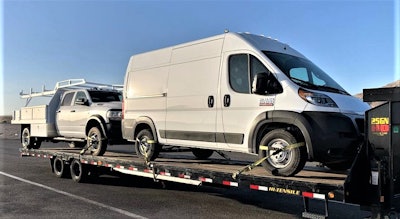 [Related: How the nuclear-verdicts threat rolls downhill to small fleets and owner-ops]
---
Find more information about the ins and outs of safety and business processes, among a myriad other topics, in the Overdrive/ATBS-coproduced "Partners in Business" manual for new and established owner-operators, a comprehensive guide to running a small trucking business. Click here to download the 2021 edition of the Partners in Business manual free of charge.