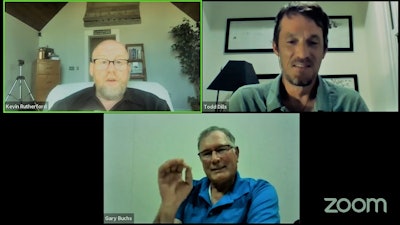 It's Code Red for the threat environment today on Channel 19. And we're not talking about the Ukraine-Russia situation and national security, or even rising costs for owner-operator businesses, as crude oil hovered around $100 a barrel over the last week, and don't get me started on maintenance costs ... We're back to the topic of political acrimony and the willingness of far too many of us to talk loose, to talk big, to hurl insults and do all of that as if it's just the normal run of things.
Longtime owner-operator coach Kevin Rutherford, who has written for this magazine many times and has been a regular presenter at our Partners in Business seminars since the very first one many years ago, had his show abruptly canceled last week after remarks directed at an Arizona congressman, according to Rutherford.
As Rutherford told the story in an email to his followers, as he was on-air last week "I was reading an article during the break about an Arizona Congressmen that made the statement, 'If the truckers come to D.C. we should just take their truck away and give it to a small company that wants to grow.'"
That was indeed the general message of the statement made by Ruben Gallego, who represents Arizona's 7th Congressional District in the U.S. House of Representatives, but here's what the rep actually said on (where else) Twitter:
Rutherford added he "was sickened, disgusted" by former U.S. Marine Gallego's comment and made remarks that included the notion that quite severe bodily harm should come to the Congressman.
Hence the cancelation of his show, he said, now in effect. (Rutherford's "Trucking Business & Beyond" is no longer listed on the Road Dog Trucking channel's lineup online. Rutherford did not get back to me when I asked whether he had anything to add to Overdrive's audience beyond his emailed statement.)
It's worth detailing how things got to this point. Gallego's own over-the-top threat came in response to a towing company owner's plans to "shut down the Capital Beltway" around D.C., in the words of the report Gallego shared with his response above. That report offered this nugget as to what he and others planned to do exactly: "I'll give you an analogy of that of a giant boa constrictor. That basically squeezes you, chokes you and it swallows you, and that's what we're going to do. ..."
If that sounds to you like it sounds to me, you perhaps weren't surprised to find out that this gentleman's convoy from Pennsylvania to D.C. on Wednesday last week was but a convoy of one -- or a few, as it were, with some folks in pickups and SUVs following. His choking-off-the-capital warning had been red meat for a clickbait-hungry writer, though, then however many dozens more who just parroted the original report.
All of that wound its provocative way toward the Arizona congressman and to Kevin Rutherford, of course, whose response and Sirius XM's reaction to it effectively ended his show there.
"It's a shame" that things ended this way, said longtime Overdrive Extra contributor, former owner-operator and Rutherford listener Clifford Petersen. "There are things to get riled up against and other things you need to just let go, as water off a duck's back."
That's especially important for those who work in media of any kind -- and pretty well all of us now that social media so effectively amplifies everything that we might deign to put out into the ether. Provocation does as it is intended, often just begetting more of the same, in an endless cycle.
[Related: 'If you can say it in a meme, you didn''t think about it hard enough']
In a certain way, Rutherford acknowledged this in his email announcing the show's cancelation, yet at once offered justification for his reaction this way: Had Gallego's statement, provocation that it is, "been said just a month ago, I may have commented and moved on. After watching what is happening to our brothers and sisters in Canada," with Freedom Convoy protest crackdowns, "I can't ignore a comment like that."
More mindful reactions to our peers and, hey, even perceived enemies, I feel, are in order for all of us. There's value in viewpoints judiciously expressed, of course. When I talked to Clifford Petersen this morning he was reminded of a Facebook post he saw recently where a poster shot out at another to not "'start talking about the good ol' days of the Super Trucker,'" as Petersen summarized. But even that sort of truck-stop Counter of Knowledge story, "if it teaches you something, why not? Who's going to look down on a good story? A good story's a good story."
Rutherford's long been a natural in the storytelling department, and it's certain many Road Dog listeners will miss his viewpoint on bedrock owner-operator business. "He's helped a lot of people become more successful as owner-operators," as Petersen put it.
Rutherford hopes to continue to do the same, even without the Sirius XM part of his platform. The following is from his message to his audience:
I often thought that after my run on the radio, no matter how it ended, I would take a 3-6 month sabbatical and plan the next stage of my life and business. As much as I was looking forward to that, it's not going to happen. I will be back on the air in some form within a week if not sooner. Plan B has been sitting ready for this day. I will be doing some sort of a podcast call-in format.
I'm so grateful for your support. You are the people I consider "The Tribe." I have no desire to punish Sirius XM in any way. I will just move on with my mission of making the trucking industry a better place to live and work.
Find Rutherford's trucking-business-focused site at TruckingTribe.com. It was converted to a paid membership site as of the end of last year. Rutherford's well-known LetsTruck.com site and store still offers business software and more, of course, too.
[Related: Building the foundation: Knocking on doors with a Texas-based hotshot trucker]