Looking ahead to warmer times? It's not too early to start planning for the truck show season. With the return of the Mid-America Trucking Show next month in Louisville (with plenty new additions, including a tractor pull) starting things off (well, they might already be started, frankly), the full-throated return of show season ought to yield plenty of opportunity for gathering with truck enthusiasts, fellow owner-ops and more.
The folks behind the various Ohio chapters of the American Truck Historical Society sent along some details finalized for the state's annual Ohio Vintage Truck Reunion, in its 10th year, according to organizers. The event will feature vintage trucks, various trucking memorabilia, a swap meet and much more June 18-19 in Ashland, Ohio, with donations accepted to benefit the Ashland Food Bank and the Shriners Transportation Fund.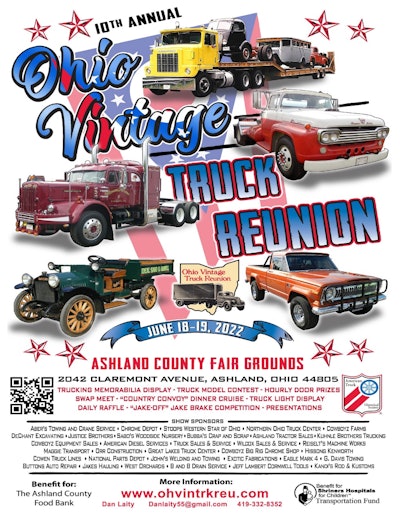 The Ohio ATHS event follows close on the heels in June of the biggest ATHS event of the year in the massive annual convention, set for June 7-11 at the Illinois State Fairgrounds in Springfield, back to the Midwest after last year's event in Virginia. (West Coast folks, it returns to Reno, Nevada, for 2023). Find information about pre-registration and more for the national convention at this link.
Those are but two ATHS events among many taking place in states and locales all around the nation, including the Sierra Cascade Logging Conference starting up tomorrow in Northern California. (Told you the season may well have already started.) This year's series of ATHS events follows the org establishing its trucking hall of fame last year at ATHS headquarters in Kansas City.
A few more truck shows finalized recently
Down in Georgia, the fifth annual Shine In The Pines truck show is scheduled for May 20-21 in Dublin – near I-16 about halfway between Atlanta and Savannah. The show will raise funds for the family of a child being treated for a brain tumor, four-year-old Emmi Ruth Savage.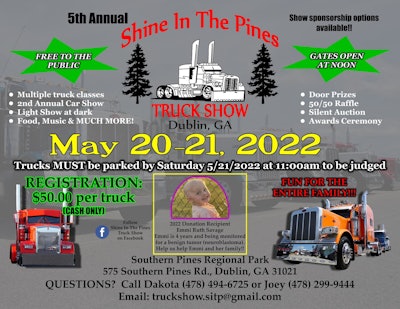 A little farther down the road in July is the annual TopGun Largecar Shootout in Rantoul, Illinois – regular readers may well recall coverage of that event from Overdrive in years past a time or two.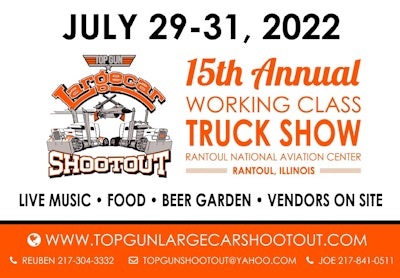 And, finally, small fleet owner-op C.G. Soza of Atwater, California, one among the semi-finalists in Overdrive's Small Fleet Champ competition last year, sent along the completed poster for the second annual A.J. Soza Memorial Truck Show, happening out in Merced, California, at the fair grounds. I've been planning to be in attendance there to cover the second installment of the show if all goes well scheduling on my end. If you're going to be there this year, drop me a line.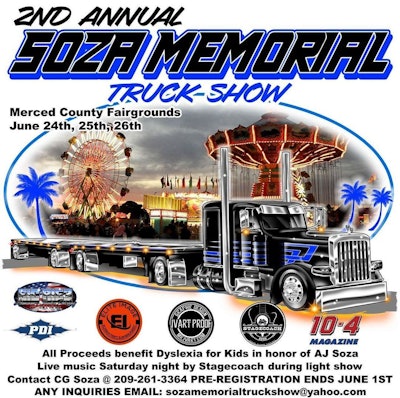 Hope to see you there, or elsewhere at a show this year.
[Related: Soza Trucking builds solid foundation in car haul]