In today's edition of Overdrive Radio, Federal Bureau of Investigation Special Agent Ann Alexander talks about the Little Rock, Arkansas, field office's push this week to gather leads on the 2006 murder of 19-year-old Tracy Owana Jones, who disappeared in November that year from a Little Rock-area truck stop where she'd been working to collect magazine subscriptions.
Jones was last seen on November 15, 2006, a Wednesday, at the Pilot Travel Center at the Galloway exit off I-40 east of Little Rock. Her body was found more than a week later on Sunday, November 26, in a field off I-40 in Memphis, Tennessee. Cause of death: Blunt force trauma, Alexander said.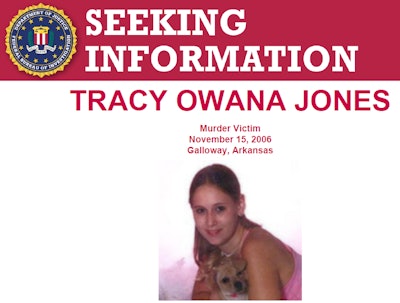 Alexander and others on the FBI team indicate here just how you might be able to help if details of the case jog your memory of her from that time. There's a new $25,000 reward for information that leads to a conviction. Those with tips can contact agent Alexander via the FBI Little Rock field office at 501-221-9100 or dial 800-CALL-FBI.
Find more information and a download of the information-wanted poster via this link. And hear Alexander's narrative of the case, with more detail, in today's podcast:
Also in today's edition: A conversation with Overdrive's intrepid News Editor Matt Cole about his story from earlier this week with a look at the trucking associations' engagement with the first bit of detail we've seen on FMCSA's plans to implement the Congressional requirement of a pilot program for under-21 interstate drivers. There's a lot to it, including significant required training, a proposal to require any pilot program participants to work within the Department of Labor's registered apprenticeship program, and more.
By the end, we might just get closer to an answer to an age-old question, too: Is it right to call 18, 19 and 20-year-old adults "teens?"