Pre-CDL prospective truck drivers as of February 7 will have to use either a private or for-hire training provider registered in FMCSA's new Training Provider Registry to receive likewise newly required training before taking the skills test to get their CDL. The implementation of the so-called Entry Level Driver Training regs follows nearly a decade of development after a "rulemaking by committee" of sorts with a wide array of trucking and training stakeholders at the table.
As I can well recall, conversations then often trended skeptical of old pre-CDL apprenticeship-training ways truly surviving implementation, yet companies like Bountiful, Utah-based small fleet Ralph Smith Co. have prepped for the new regs by putting themselves into the nearly-ready-to-go-live Provider Registry in order to fit their longstanding programs with the new rules.
Veteran hauler Harry Smith, now in operations and training at Ralph Smith Co., is today's Overdrive Radio guest, with a passion for hands-on, on-the-job training he's put into practice over the past seven years.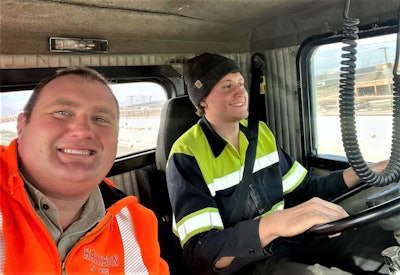 Many is the story I've been told of the young man or woman now fully formed and on his own in business as a truck owner who started just that way – by finding a more-seasoned hand to take him or her along for the ride to really learn not just the basics of operating a truck, but all aspects of the business.
I spoke with Smith for the podcast on the occasion of the upcoming implementation date for the training regs. Smith's confident his own extensive efforts building the new generation of truck drivers will survive the regs implementation, even with new reporting and documentation requirements put on any training provider. That includes so-called private, not-for-hire apprenticeship trainers like his and other small fleets.
At once, he's also skeptical that the regs lay exactly the right path for trucking writ large, more broadly speaking, as you'll hear. Take a listen:
Read more about the regs' implementation, and Ralph Smith Co., in this January 20 report.