Serious question: How do you know when it's time to hang it up?
I'm 62 now, and I keep catching myself devising an exit strategy from the life of a full-time trucker. After all, there's $1,500/month in rocking-chair money just waiting for me downtown at the Social Security office. There have been phone conferences with our CPA, as well as just a little too much screen time gawking over YouTube videos with titles like "Retire Early / $800 a Month / Boquete, Panama."
Truth is, I never planned on getting this old this soon. Watching my own dad continue to work well into his 70s had me shooting for octogenarian-trucker status. But lately? Not so much. Two of my closest friends in this business died in recent months, and they weren't that much older than me. And there have been a couple significant medical setbacks of my own, one of which was life-threatening.
In the new dystopia of closed restrooms and eateries, the slow-burning angst and malaise of operating in the midst of a seemingly endless pandemic, grinding away all week at an OTR job, going home for a day and a half, and doing it all over again has, in truth, made Paul a very dull boy.
So once again, I shamelessly parlayed the platform lent to me by Overdrive to speak with someone I admire -- someone who may be able to point me in the right direction. This week's victim is bestselling author, playwright, humorist, radio show host, singer-songwriter, newspaper columnist, and intermittent pig farmer Michael Perry. If anyone could tell me how to possibly cut out a livelihood on part-time trucking and potentially other income streams, it might just be him.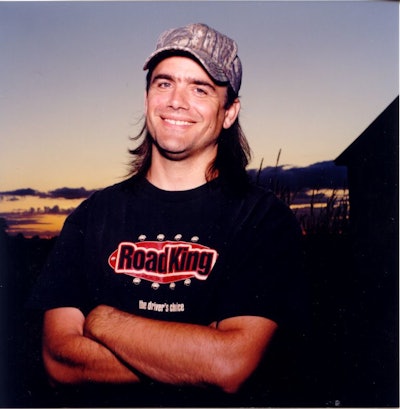 Raised in a family of farmers, loggers and truckers, Perry left a good-paying job in the medical field to chronicle the lives of working people as a freelance writer, becoming a latter-day Garrison Kiellor of sorts, hosting the nationally syndicated public radio program "Tent Show Radio," which has featured acts in its tenure like Merle Haggard, Kathy Mattea and John Prine.
In many ways, Perry embodies the creative equivalent of a small farmer or independent trucker, working the gigs that work for him, shedding the ones that don't. Not bad for a guy who got his start writing for a trucking publication. He's our guest on today's Overdrive Radio edition. Take a listen: