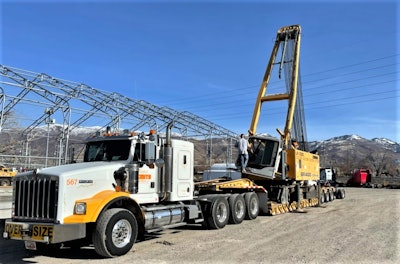 The Federal Motor Carrier Safety Administration's new Entry Level Driver Training (ELDT) regs' compliance date is Feb. 7, meaning any prospective CDL skills-test taker without a Commercial Learners' Permit (CLP) before that date will need to complete course work with a training provider registered and self-certified as compliant with the rule in order to take the test and receive a CDL.
The long-awaited rule, as many regular Overdrive readers will know, was finalized in early 2017, after being developed during the Obama administration and set for publication late in 2016, then briefly delayed as the Trump administration came into place. For the first time, it establishes training standards for any driver looking to get a CDL, to upgrade a CDL from a lower class (such as moving from Class B to Class A), or to add hazmat or any school-bus/passenger endorsements.
With the final compliance date functionally in place at this point, FMCSA continues to build out its database of registered training providers -- today little more than a spreadsheet with a list of more than 8,000 locations of an untold number of companies providing training. (It's available for download via FMCSA's ELDT main portal at this link, but it's easy to miss -- scroll down the page until you see the header with this text: "Do you need to find a training provider?" There's a text link in what follows that goes to a direct download.)
[Related: The feds want trucking apprenticeships: How does an 'Owner-Operator Mentor Academy' sound?]
The rule gets quite specific about what training is required, setting forth standards for both classroom/knowledge-type training and behind-the-wheel instruction (no set number of hours) on the basic operation of a truck, control systems and dashboard instruments, pre- and post-trip inspections, hours of service, roadside inspections, backing and docking, distracted driving, driver-whistleblower protections and procedures, and more.
Yet the rule leaves space for creativity in just how trainers get to and through all that instruction, and there's no small amount of evidence forward-thinking small fleet owners are taking somewhat old-school, hands-on approaches to apprenticeship training and fitting those approaches directly within the new requirements. Harry Smith, part of the Smith family ownership of small fleet Ralph Smith Co., out of Utah, has long trained drivers up from prior careers with a handshake commitment on the part of the prospective CDL holder to spend at least a year with the company after getting licensed. I wrote about his approach glancingly when I spoke to FMCSA Driver Adivisory Committee member and oversize/overweight hauler Doug Smith, Harry's owner-operator father, back last year about the advisory committee's first meeting.
[Related: FMCSA driver advisory panel's first subject: Not any 'driver shortage,' but the retention of experience, safety]
"We are preparing for the transition to the entry level driver requirements by building a practical 'curriculum' based on field experience and hands-on training," Harry Smith said. In some ways, he'll proceed as usual at Ralph Smith Co. "For years, this experience and training has been passed on to our trainees by just going out and working every day and getting exposed to as many things as possible in the trucking world."
Prospective CDL applicants at Ralph Smith Co. are paid employees during that training with their CLPs -- it's the kind of apprenticeship program you've been hearing folks at the Biden Department of Labor and DOT talk about of late, in effect. "Once we felt confident in someone, we would turn them loose in their own truck," Smith added, continuing to "nurture them into progressing their talents by continually pushing them to do hard things. We are always there to help them along the way, and you oversee their trucking progression."
With the interest in continuing its efforts to bring a wide variety of people into the business -- food-service workers, Lyft drivers, folks working in "backbreaking jobs," Smith said (his sister, Kate, noted the last person they trained had been a Starbucks barista working the 5 a.m. shift before signing on to get rolling) -- Ralph Smith Co. is now listed in the Training Provider Registry (TPR) as a so-called "private," not-for-hire training provider. That distinction in the database is likely geared toward helping FMCSA build out what it says will be an "interactive search feature" for prospective CDL applicants looking for for-hire programs in their area and sussing out potential for private instruction. With just a couple weeks remaining before full ELDT implementation, that search feature of the Registry remains unpublished.
An FMCSA spokesperson said the feature will be available on the go-live date for the rule itself -- February 7.
Among for-hire training providers, Al Hanley III, President of Education and Training for TransForce Group, called the ELDT rule among the "most significant industry wide changes since the 1991 implementation of the CDL license."
MTC Truck Driver Training Safety and Compliance Manager Terry Sanders viewed that significance as a clear positive. "Standardized training and clear expectations will save lives and improve safety for the motoring public as a whole," Sanders said. "There are schools who teach the bare minimum for a student to pass a CDL test and those students are not prepared to be employed."
Hanley's biggest concern nationwide was that, though the numbers of provider locations listed in the registry is high and continuing to grow, it might not be enough. "One concern for the industry is the shortage of qualified instructors and the cost to add more instructors to a program," he said. "We anticipate that there will be disruption of the CDL skills testing process at some point in February."
On this point, FMCSA said it had "no basis to predict how many training providers will ultimately register in the TPR."
Kate Smith, involved in many aspects of the 40-company-driver Ralph Smith Co. business today, also held worries on testing disruptions, but pointed not to anticipated training issues as the principal problem. She feels headwinds blowing against getting CDL testing itself done expeditiously, after training. Her father "has been on the waiting list" to become a trainer in Utah "for five years," she said. He hasn't been able to get on that list because the state has an enforced maximum number of trainers.
The CDL-testing bottleneck isn't nearly as bad in Utah as it is in California, though, she added. About a year and a half ago, "we had a tester we used at our facility" who noted "busloads of people coming in from California just to take the practical test."
Kate handled Ralph Smith Co.'s registration and certification process for their inclusion in FMCSA's new TPR registry, describing that at least as fairy simple. Using a login to FMCSA's system that she already had as a fleet owner/rep, she filled out company "biographical information, our DOT number and the like."
Then: "I had to wait a couple of days for the system to approve me. Once I was approved, I went in and selected an address and a facility location," choosing the company's main yard. Kate had to specify "what kind of training we have," whether behind-the-wheel on-the-road, simulation, range driving and/or combinations of all of them. "There were around 10 different options. ... You had to select how much of your curriculum was book versus hands-on, and it was pretty simple as far as walking through and just checking boxes."
That simplicity was welcome, yet now comes the hard part for training providers all around the nation. The rule puts new documentation and reporting requirements on providers when it comes to the type of training and hours put in, particularly hours behind the wheel, to ensure compliance with the rule.
FMCSA said its enforcement of that compliance of training providers will center on center random-sampled audits of training providers, in addition to investigations of "credible allegations of a training provider's non-compliance with the ELDT requirements," the spokesperson said. "By registering in the TPR, training providers agree to allow an audit or investigation of their operations conducted by FMCSA or its authorized representative. In addition, States must notify FMCSA when they become aware that a training provider in the State does not meet applicable State requirements for CMV instruction."
The Smiths are confident about their efforts to move forward with their largely hands-on apprenticeship approach, through which Kate estimated they'd trained 25 drivers over the last several years, to great success for the vast majority of the new truck drivers. The company has a CDL course manual from the Utah division of the Associated General Contractors it can lean on for book instruction, too, she added, and Harry Smith noted he expected likely support in that regard to come via the state trucking association.
[Related: The trucking history of independent Germann Soeth and his long-running Kenworth W900B]
In the for-hire training space, Terry Sanders of MTC Truck Driver Training noted the company was "gearing up for record classes this year. We've been preparing for over a year and are ready to go Feb. 7. Preparing included not only making sure our curriculum and processes were in order, but also ensuring we had the instructors needed to meet demand."
Sanders said that for MTC, which had most components in place for the ELDT timeline already, "it was just a matter of streamlining and reorganizing some processes." The organization has already seen a boost in enrollment thanks to the attention trucking has received throughout the pandemic.
In anticipation of the ELDT rule, TransForce Group developed an online course in early 2021 and has enrolled more than 21,000 users to-date.
"Our online program is free," said TransForce's Al Hanley, "and following completion we help all students find the best behind-the-wheel training for them in their area – whether it is our school or not. We have partnered with hundreds of schools (and growing) to help increase and ease the flow of new drivers entering our industry."
As for that old-school approach to paid apprenticeships Ralph Smith Co. is employing, Harry Smith was recognized for it this past year by the Specialized Carriers and Rigging Association when he was named to their annual 4 under 40 shortlist, meant to call out SCRA members under age 40 making a big difference in the business and around the industry. As he told American Cranes and Transport magazine at the time of the honor last summer, "Turning apprentices or new people to the industry into truck drivers and helping them to develop careers is one of my biggest, most rewarding goals in life. You can't buy a driver, but you can build a driver." --My colleague Jason Cannon over at CCJ contributed reporting to this post. Read his own report in full via this link.
[Related: Comparing 1970s/2010s training experiences with an old-school operator back in the business as a driver after law enforcement career]