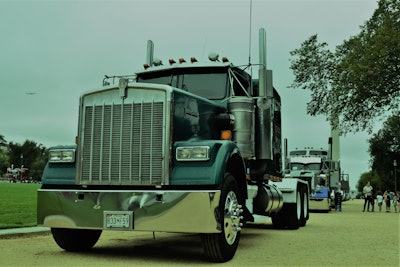 Owner-operator Germann Soeth runs independent with authority out of Frederick, Md., to points mostly Chicago and east. I met him at That's a Big 10-4 on D.C. on the National Mall in Washington a couple weeks back, where he gave me a window into his long history trucking. It extends back to his time in high school, when he met an independent running LTL reefer leased who agreed to bring Soeth on as a helper to show him the ropes of backing, loading, unloading, learning slowly to really operate in the process.
He got his authority in 1992, and bought this long-running 1998 Kenworth W900B with its 60-inch factory flattop new in 1997.
Today, he pulls mostly end dumps with various aggregates for freight, taking a regular-set-aside approach to maintenance savings ($700 monthly) for the long-running rig. "She makes as much money as a new truck," he says of the rig, which he keeps going with pride (though a project K100 cabover he's got plans to put into service in the warmer months relatively soon).
Catch plenty views of the W9 and hear more of Soeth's history via the video above.