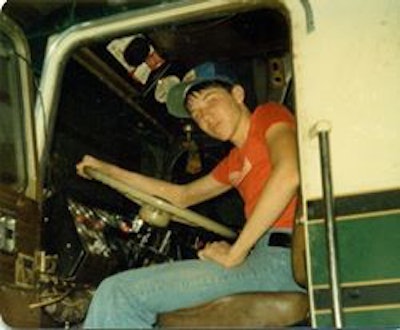 The tough-looking young man you see above is none other than Illinois-headquartered operator Scott Hainline, in the mid-1970s "hanging out at Logan Motor Lines' terminal" a block from the house where he grew up in Macomb, Ill. Hainline was a truck and trucking nut from an early age. "Logan had Freightliner cabovers with 1693 Cats and both 335 and 350 Cummins engines with 13 speeds."
That marked the very early part of Hainline's education in trucking, which like so many in Overdrive's audience came predominantly via an informal apprenticeship with a more seasoned veteran — in his case one Gene Thurman of nearby Bentley, Ill., who hauled fuel and who has passed on in recent years, as you'll hear in this week's edition of the Overdrive Radio podcast.
Yes, we've heard from the off-the-record sources, too. The Entry Level Driver Training Rule's delay by as much as two years' time, if those sources are correct, is set to be made official any day now — Hainline notes he's just as hopeful as other operators for real safety improvement with training practices standardization, at least when it comes to raising the bar for minimum standards.
His perspective is interesting not only because he was initially trained back when. By the early 1990s, he'd left trucking behind for a career in law enforcement, retiring just several years ago, whereupon he decided to re-enter and … was trained again. What he found upon retraining to obtain his CDL with a community-college program he felt lacking in several different areas. Looking around his state, too, he's seen the wide variability in how different CDL-training programs approach the basics. Today's podcast touches on all of that, likewise what opportunity may exist for formalizing the one-on-one CDL apprenticeships of yesteryear in the at-some-point coming required training regime, where both coursework and range and road training minimum standards must be met before a learner's permit holder can take their CDL skills test. Along the way, some views from others on perhaps misplaced federal priorities when it comes to the impending training rule delay:
Podcast: Play in new window | Download