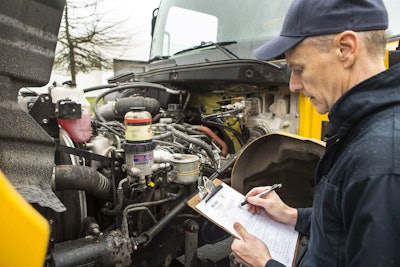 The Federal Motor Carrier Safety Administration published Thursday, Dec. 18, a Final Rule to will eliminate the requirement that truck drivers keep and submit Driver Vehicle Inspection Reports when no defects have been found.
The rule went into effect upon Thursday's publication of the rule.
Truck operators will still be required to perform post-trip inspections, but if no issues are found, no report has to be submitted. Drivers will also still be required to perform pre-trip inspections of their equipment. Carriers will also still be required to review the reports and act on any deficiencies prior to dispatching the truck again.
FMCSA says that roughly 95 percent of DVIRs are defect-free. Elimination of the reporting requirement of that 95 percent will allow carriers and the agency to better concentrate on the 5 percent of DVIRs that do contain defects, FMCSA says.
It estimates the rule will save the trucking industry $1.7 billion — a number it calculated based on time and paperwork costs.
The American Trucking Associations announced its support for the change in the comment period of the rulemaking process, saying it increased regulatory burdens on carriers and drivers without providing any tangible safety benefits.