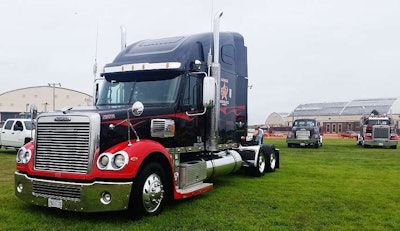 We spent last weekend in Rantoul, Ill. at the 8th Annual TopGun Largecar Shootout and Working Class Truck Show. This is a show we haven't attended before, but we will definitely make a point to go back.
It's a fairly small show, nothing like the super shows with a gabillion booths and huge corporate sponsors. This one is all about the trucks, and there were some fantastic examples of working show trucks in attendance.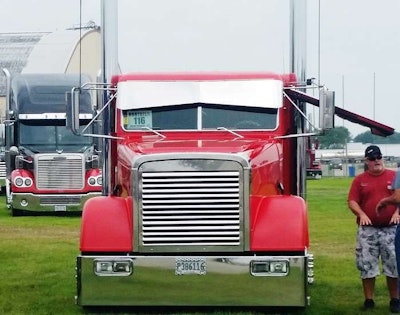 Tom Reitz and his wife Daveda started the show eight years ago. His own love of chrome and polish prompted them to get together a like-minded group in their hometown area to enjoy some camaraderie and friendly competition. The flight line of Chanute, a decommissioned Air Force Base in Rantoul, provides the perfect setting for a large car show, with plenty of room to wander around, either on foot or by golf cart, which they have available for rent at the show. (I would strongly suggest the golf cart, as the flight line is huge, and the show has grown to a point that it takes up more than half of it.)
The Martin family, of Chrome Shop Mafia fame, are sponsors of the show. Bryan and his wife Lisa are usually in attendance, and this show actually reminds me a lot of theirs (GBATS), only a little smaller. They have a pedal-car race for the kids, a vintage car show, a big truck stereo competition, and this year they did one of the coolest things I've ever seen, which is a Jake brake competition. The Parade of Lights is a nighttime convoy that kicks off the show festivities on Friday night, and it's pretty dang awesome.
We entered The Precious in the Park-n-Show category, which is not judged at this particular event like it is in the Pride and Polish events. That was a little disappointing, but now we know, and next year we'll go ahead and put her in with the big girls in the judged Bobtail class. I will say she stood out like a beacon, being a Freightliner and all, and her raised-roof sleeper was about the only one out there. Thank goodness for Troy Huddleston and his badass batwing Freightliner, or the only show trucks that would ever win anything would be Petes and KWs. Frankly, I'm kind of sick of seeing only Petes and KWs as show trucks – I like things that are different, and flat-top Peterworths are about all there is to look at on the show floors. So thanks, Troy, for being different – and winning at it.
We really appreciate the hospitality extended by the Reitz family – Tom, his wife, and their daughter took time to talk to each and every person who approached them, even though they were busier than one-armed paper hangers for the entire three days. It's always nice to be treated like you matter, and they do a great job of it.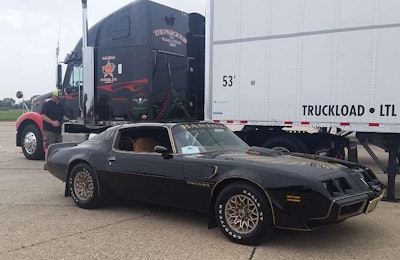 See you next year in Rantoul!