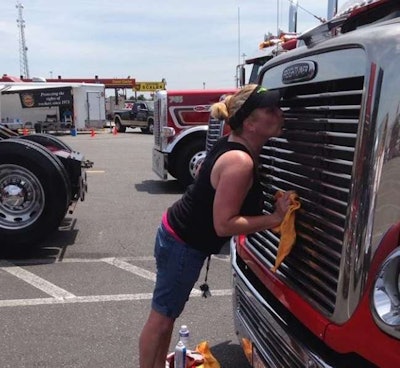 Our first Wildwood experience was awesome. The folks at 75 Chrome Shop did a fantastic job of making the event enjoyable and entertaining. Cleatus T. McGoverned didn't get arrested for stalking Chris G. of Diesel Life, and our Precious took 3rd in the Wash and Show portion of the Pride and Polish competition. It was a great weekend.
We entered her on a whim – like we did at GBATS last year, but this time we got a little more serious about it and had her tanks cut and polished. We also spent two days wiping and polishing every inch of her, and when we were done, she really did look beautiful.
I'd like to formally apologize to all the show people, who I thought were crazy fanatics before we became the same. There's nothing like the pride we both felt when they announced "George Parker" as the third-place winner. Third is great, but I've got the fever now, and we'll be winning first before you know it.
When my elbows, fingers and shoulders recover, I'll be out there polishing her again. I've discovered my on the road exercise/diet program. We'll spend so much money, there won't be anything to eat but ramen noodles, and I'll be buff as hell from wiping and polishing. Works great for me.
We had a blast and learned a lot. I had no idea what "clocking" your tires was, or that you can use regular glass cleaner on tanks that have been polished to make them reflect light that can be seen from Mars. Getting a truck ready to show is an art form, it requires a whole lot more than just going at it with a rag or two. We appreciate those who helped us along in the learning curve.
I'd like to give a big shout out to our buddy Nick from Truckitsmart.com, for sponsoring and encouraging us to enter the show. I'd also like to tell our friends Chris and Ashley from Diesel Life that I'll do my best to keep Cleatus away from them, but I can't promise anything. Last but not least, I'd like to thank the Farkus family for being gracious and kind hosts. We are already looking forward to next year, when we'll take first. Hide and watch.