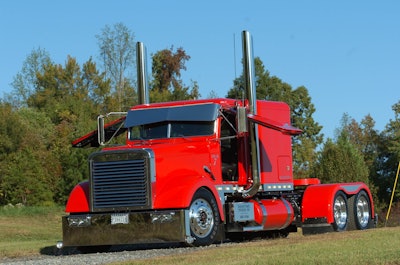 One way we're celebrating the 25th anniversary of Overdrive's Pride & Polish this year is highlighting 25 of our best custom rig videos.
In the seventh week of the countdown — which will span 25 weeks — here's Troy Huddleston's 1991 Freightliner Classic-FLD, which has some of the more unique touches on the show circuit today, including the butterfly doors and interior components made out of steel chain.
The truck, which Huddleston named "Flirting with Disaster," has picked up lots of awards on the Pride & Polish circuit, including several Best of Shows. Click here to read more on the truck and to see more photos.
Here's the video of Huddleston and the truck:
Click here to see all of Overdrive's coverage of Pride & Polish's 25th anniversary, including the other six 25 videos for 25 years posts.