Overdrive's Pride & Polish's second stop of 2015 took place this weekend in Willows, Calif., at the Thunderhill Raceway, held alongside the second stop of the Meritor ChampTruck World Series.
Overdrive posted Sunday the Best of Show winners from the competition, the Dynaflex-sponsored Monster Stack Shootout. Click here to see that story.
Below, however, is the full list of winners, along with more photos of competitors from the show. Click here to read coverage of the ChampTruck race results, and stay tuned this week for beauty shots of the Best of Show winners.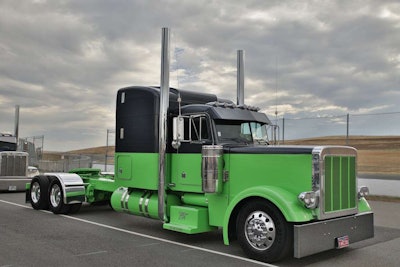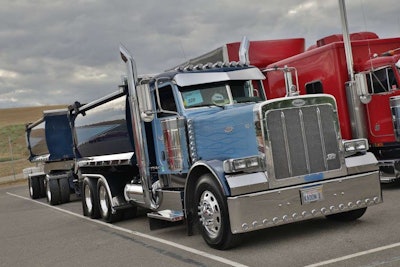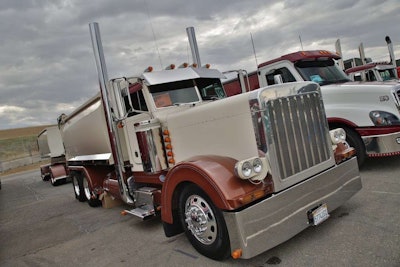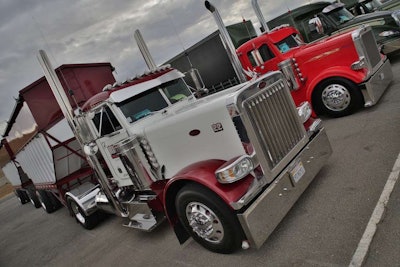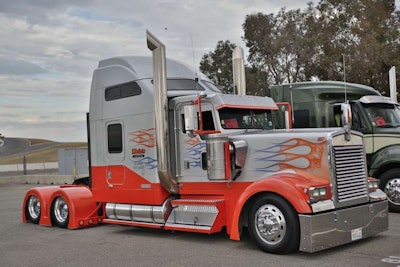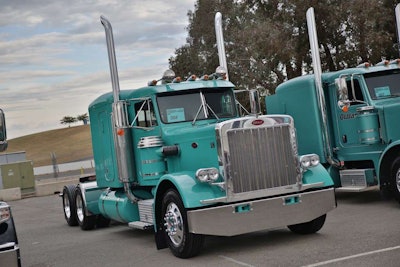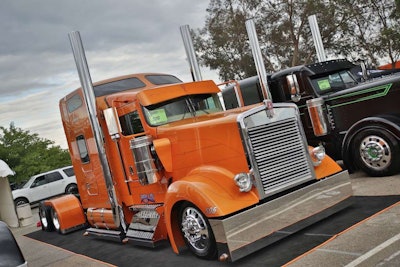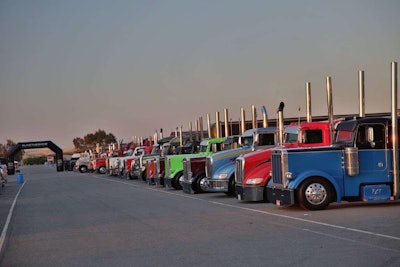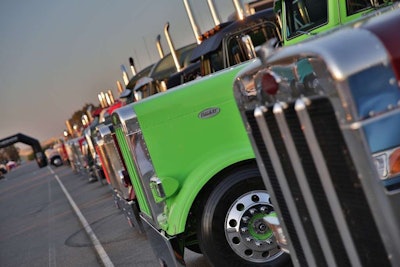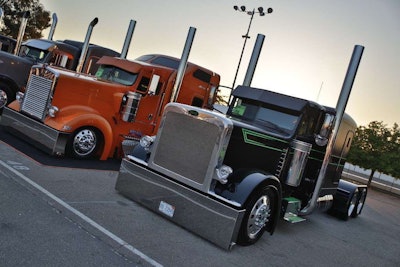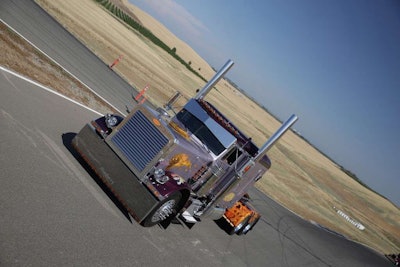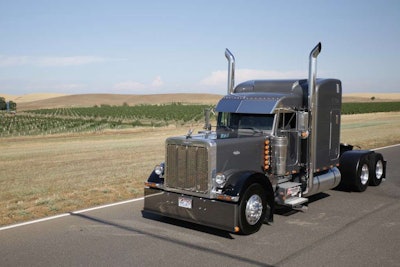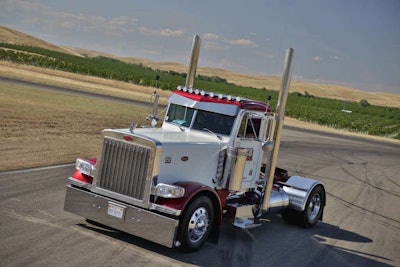 And here's the list of winners:
BEST OF SHOW WINNERS:
Limited-Mileage Bobtail: Travis Poulsen/Poulsen Trailer Sales, Logan, UT; 1998 Grey & Black Peterbilt 379
Limited-Mileage Combo: Ray Rodriguez/Lil Ray Transport, Salinas, CA; 2015 Peterbilt 389/2015 Western Stepdeck
Working Bobtail: Eric Hassevoort, Hamilton, MI; 2015 Peterbilt 389
Working Combo: Phil Miller, Amargosa Valley, NV; 2010 Peterbilt 389/2015 Wilson Livestock Trailer
Participants' Choice: James Davis/JDT Trucking, Central Point, OR; 1993 379/2006 MAC Flatbed
BOBTAIL
1st Place – tie – Eric Hassevoort, Hamilton, MI; 2015 Peterbilt 389
1st Place – tie – Bob Mair/Davis Bros, Owensville, IN; 2014 Peterbilt 389
2nd Place – George Ballesteros/Rolando Nava, Oxnard, CA; 2005 Kenworth W900L
3rd Place – James Davis/JDT Trucking, Central Point, OR; 1999 Peterbilt 379
COMBO – SPECIALIZED
1st Plac – Phil Miller, Amargosa Valley, NV; 2010 Peterbilt 389/2015 Wilson Livestock Trailer
2nd Place – Miro Dragich, Norwalk, CA; 2003 Peterbilt 379/2009 Rouge Transfer Dump
COMBO – 1999 & OLDER
1st Place – Ray Rodriguez/Lil Ray's Transport, Salinas, CA; 1988 Peterbilt 379/2003 Fruehauf Flatbed
2nd Place – Rudy Ceja, Firebaugh, CA; 1997 Peterbilt 379; 1994 Ravens Flatbed
3rd Place – Walt Kurz/JDT Logistics, Central Point, OR; 1997 Peterbilt 379/1998 Ravens Flatbed
COMBO – 2000 & NEWER
1st Place – tie – Ray Rodriguez/Lil Ray's Transport, Salinas, CA; 2000 Peterbilt 379/2006 Transcraft Flatbed – "El Patron"
1st Place – tie – Dustin Pope/David Pope Produce, Greenville, TX; 2003 Kenworth W900L/2010 Muralled Utility Reefer
2nd Place – Moe Whitchurch III/Whitchurch & Son Trucking, Chico, CA; 2008 International 9900i/2014 Wilson AF1080
3rd Place – Eric Garcia/Alfonso & Maria Garcia, Mendota, CA; 2010 Peterbilt 386/1980 Polar Tanker
INTERIOR – CAB ONLY
1st Place – Miro Dragich, Norwalk, CA; 2003 Peterbilt 379/2009 Rouge Transfer Dump
2nd Place – Moe Whitchurch III/Whitchurch & Son Trucking, Chico, CA; 2008 International 9900i/2014 Wilson AF1080
3rd Place – Bob Mair/Davis Bros, Owensville, IN; 2014 Peterbilt 389
INTERIOR – OEM SLEEPER
1st Place – Phil Miller, Amargosa Valley, NV; 2010 Peterbilt 389/2015 Wilson Livestock Trailer
2nd Place– Eric Hassevoort, Hamilton, MI; 2015 Peterbilt 389
3rd Place – Ray Rodriguez/Lil Ray's Transport, Salinas, CA; 2000 Peterbilt 379/2006 Transcraft Flatbed
BEST INTERIOR – LIMITED MILEAGE
Tie – Bob Harley, Burbank, OH; 1972 Peterbilt 358
Tie – James Davis/JDT Trucking, Central Point, OR; 1993 Peterbilt 379/2006 MAC Flatbed
PAINT – BOBTAIL
1st Place – tie – Eric Hassevoort, Hamilton, MI; 2015 Peterbilt 389
1st Place – tie – George Ballesteros/Rolando Nava, Oxnard, CA; 2005 Kenworth W900L – "Backyard Build"
2nd Place – James Davis/JDT Trucking, Central Point, OR; 1999 Peterbilt 379
BEST PAINT – LIMITED MILEAGE BOBTAIL
Ron Stone/Jim Oldland, Central Point, OR; 1980 Peterbilt 359
PAINT – COMBO
1st Place – Dustin Pope/David Pope Produce, Greenville, TX; 2003 Kenworth W900L/2010 Muralled Utility Reefer – "Cash on the Barrelhead"
2nd Place – Phil Miller, Amargosa Valley, NV; 2010 Peterbilt 389/2015 Wilson Livestock Trailer
3rd Place – Walt Kurz/JDT Logistics, Central Point, OR; 1997 Peterbilt 379/1998 Ravens Flatbed
BEST PAINT – LIMITED MILEAGE COMBO
Ray Rodriguez/Lil Ray Transport, Salinas, CA; 2015 Peterbilt 389/2015 Western Stepdeck
ENGINE
1st Place – Phil Miller, Amargosa Valley, NV; 2010 Peterbilt 389/2015 Wilson Livestock Trailer
2nd Place – Ray Rodriguez/Lil Ray's Transport, Salinas, CA; 1988 Peterbilt 379/2003 Fruehauf Flatbed
3rd Place – Eric Hassevoort, Hamilton, MI; 2015 Peterbilt 389
BEST ENGINE – LIMITED MILEAGE
Ron Stone/Jim Oldland, Central Point, OR; 1980 Peterbilt 359