In the second race weekend of the Meritor ChampTruck World Series' inaugural season, Hungarian racer Krisztian Szabo won the points-earning Podium Race, with Nashville-based Mack technician Mike Morgan following up on his win in last month's race by taking home second place.
The race was held in Willows, Calif., at the Thunderhill Raceway, and it was Szabo's first appearance in the series. And he wasn't the only new competitor to make waves — professional racer Corry Weller, who drove the No. 11 Optima Batteries Freightliner, placed third in the Podium Race, along with winning an earlier heat race.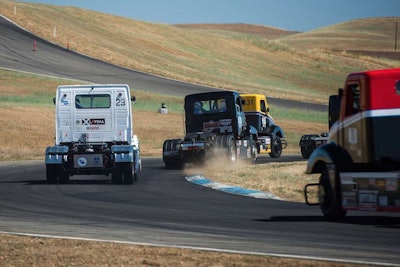 Szabo, who races the No. 23 Bendix-sponsored Volvo, won the first two heat races of the weekend, and Morgan, who goes by '88 Mike' on the circuit and drives the series' No. 88 Mack, won the fourth and final heat race before the Podium Race.
The ChampTruck races were held in conjunction with the Dynaflex-sponsored Overdrive's Pride & Polish show.
See photos of the weekend below, and click here to the winners of the Pride & Polish show.