Being new to the border-crossing process, owner-operator Mike Davis, headquartered in Little Rock, Arkansas, didn't have 100% of his paperwork in order coming into Canada last Friday with a quite-profitable vanload of farming-related chemical packaged in super-sacks and destined for Winnipeg. Though he'd never crossed the Canadian border in a truck before, he had the credentials, including newly-required proof of COVID-19 vaccination, to do so -- and how's around $14,200 for a 2,000-or-so-mile long-haul sound?
For Davis, too good not to take, as it were, with or without potential headaches he knew might arise. He was mostly prepped right, though.
"You've got to use the ArriveCan app," a relatively newly required advance trip-reporting requirement for any border crosser, implemented for U.S. truckers crossing into Canada just last year. There, you can in put your identifying information, uploading a picture of your passport and vaccine card, Davis said, among other details.
"They certainly do check the vaccine card," Davis added, which he had in order, though not the shipper/agent invoice for the load he needed, booked through Landstar's system, where he's leased. Obtaining that took some time, but it wasn't quite on the order of issues he saw attempting to cross back into the United States the next morning with a load of bagged peat moss at right around the break of day.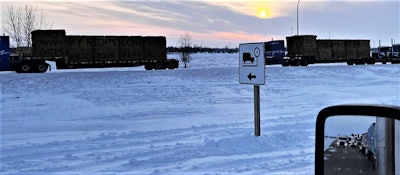 "Parked on the interstate" is how Davis describes these slow-roll demonstrations on the Canadian side of the U.S.-Canada border, at around 7 in the morning on the day the so-called "Freedom Convoy" organizers had promoted a cross-country caravan to Ottawa far away East in Ontario. "They were stopped on the road and just creeping and they'd get to the border and just turn around," Davis said. "They were repeating that throughout" his time there waiting to cross with others mingled in with demonstrators.
"Peaceful," he said. "There was no police presence, but they were completely holding up the border, moving at a snail's pace – and that's at 7:30 in the morning. The guys out there were dedicated."
After the couple of hours he was held up there, Davis found his way back into the U.S. without event and a much different story on the other side, where it was free sailing. As he headed South he counted five trucks on their way north looking like they were heading up to protest themselves. Canada's COVID-19 vaccine mandate for entry applies to both Canadian and U.S. citizen truckers alike. Unvaccinated Canadian citizens can cross into Canada but are subject to 14-day mandatory quarantine, part of the reason these demonstrations began after implementation of the requirement January 15.
The U.S., meanwhile, is also shutting out unvaccinated Canadian haulers from coming into this country, as of January 22, 2022 -- U.S. citizens returning from Canada aren't required to be vaccinated and aren't being forced to quarantine after entry, but Canada's own entry requirements ensure that for any cross-border trucker they'll be vaccinated if they've crossed into the north territory since the 15th.
After beginning as a grassroots effort among drivers north of the border, these demonstrations in Canada have expanded the scope of just what's being demonstrated against -- all COVID-related restrictions, for instance, and general political dissatisfaction with the current government there.
[Related: 'Our Punjabi brothers' portrait of a protest, trucking community, and changed hearts and minds]
In some ways, though these demonstrations are certainly much larger in terms of geographic distribution and participation than any U.S. counterpart in recent memory (outside maybe the demonstrations against the ELD mandate, spread out across the country off and on in the latter months of 2017), the Canadian "Freedom Convoy" that reached an apex this weekend reminds me of the "Ride for the Constitution" back in 2013. That demonstration began as a viral Facebook group/page with the inflammatory title "Truckers to Shut Down America" and then rode that virality to marshal a few dozen haulers in a slow-roll around the D.C. beltway, joining up with other anti-Obama administration protests in the nation's capitol at the time.
There was talk of citizens' arrests of politicians, unseating the President himself, etc. Some truckers around the nation shut down in solidarity, though reliable numbers were hard to come by -- divided is probably the best descriptor of trucking writ large when it comes to the effort.
Read a spirited discussion among owner-operators around that past effort via the following link:
[Related: Ride spokesperson says main goal: Impeach Obama]
Though very much unlike that past demonstration, the Canadian convoy raised millions via crowd-funding platforms that have matured since that time, and there are clear connections to organized political groups.
As for owner-operator Davis, he's sympathetic to the issue that started it all. "I hate that the mandate's pushed" on truckers, he said. "During the pandemic, we were all essential – now the vaccine's out, and I just don't feel like it should be pushed on people."
Of course, Davis has the vaccine himself. His wife is a nurse, required to get it to continue working and well-versed in the science behind all of it. "We might as well stick together on it," Davis said he and his wife decided, and also referenced anecdotal reports about some manufacturing facilities all around both the U.S. and Canada now requiring drivers delivering there to be vaccinated, the common experience on both sides of the border of having to present a vaccination card to get a table to sit down for a meal, and more.
"More and more, doors will start closing to the folks who are not getting it," he said. "I'm vaccinated," maybe the mandate in place opens new opportunities for him, he speculated.
That load headed north paid plenty well, in any case. The return load was just so-so at little more than a couple bucks a mile to Sulphur Springs, Texas.
Heading off potential oil sourcing difficulty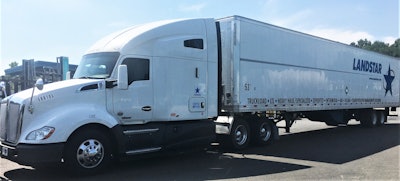 Owner-operator Davis, like the operator Gary Buchs spoke to for this story on spot shortages of certain types of diesel engine oil, utilizes a synthetic oil, in his case 10W30, in his 2014 Kenworth T680, powered by a Paccar MX13 engine. Hearing about potential sourcing difficulties some time back, Davis opted for a pre-emptive strike. "What I did was I bought a drum on Sinopec oil" directly from what he calls the "big Chinese company. I bought a drum of that for about $600."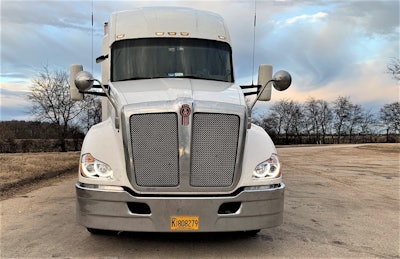 He hasn't used any of the synthetic formulation yet, so won't put for his seal of quality on it good or bad, but assuming it's good that drum ought to get him close to another 100,000 miles down the road -- "about four oil changes. On the label, it meets all the specs for Paccar," he added. "I'll give it a shot." He purchased direct via the BuySinopec.com website. "$50 for the shipping. ... I don't want to say I'm panic-buying here. But I'd hate to need it and not have it."
Anybody else here tried the brand?