Trucking news and briefs for Tuesday, Jan. 25, 2022:
Diesel prices hit highest average since Fall 2014
A 5.5-cent gain during the most recent week ending Jan. 24 has the national average for diesel prices at its highest since September 2014, according to the Department of Energy's weekly report.
The U.S.' average for a gallon of on-highway diesel is now $3.78, surpassing the 2021 high of $3.734 set during the week ending Nov. 15. The last time the national average for diesel was higher was the week ending Sept. 15, 2014, when prices stood at $3.801 per gallon.
Prices increased in all regions across the country last week, with the most significant increase being seen in New England, where prices jumped 7.9 cents.
The nation's most expensive diesel can be found in California at $4.824 per gallon, followed by the West Coast less California at $4.11 per gallon.
The cheapest fuel can be found in the Gulf Coast region at $3.531 per gallon, followed by Midwest at $3.656 per gallon.
Prices in other regions, according to DOE, are:
New England – $3.777
Central Atlantic – $3.934
Lower Atlantic – $3.686
Rocky Mountain – $3.698
ProMiles' numbers during the same week saw fuel prices increase by 6.1 cents, bringing its national average to $3.612 per gallon.
According to ProMiles' Fuel Surcharge Index, the most expensive diesel can be found in California at $4.715 per gallon, and the cheapest can be found in the Gulf Coast region at $3.435 per gallon.
[Related: How to mitigate repair/maintenance backlogs and costly downtime]
Canadian truckers protesting cross-border vax mandate
Canadian truck drivers are actively protesting the country's COVID-19 vaccination requirement that went into effect Jan. 15 with, among other things, a cross-country convoy. However, the protest has not been met with approval from the entire Canadian trucking community.
The Freedom Convoy 2022 left British Columbia in western Canada on Sunday and is en route to the capital of Ottawa, where it plans to arrive Saturday, Jan. 29. Other truckers from elsewhere in the country are headed to Ottawa, as well, organizers said.
In a Facebook post Monday night, convoy organizers noted that the group is not protesting the vaccine itself, but rather government mandates requiring the vaccine. The post notes that many drivers participating are already vaccinated. A separate post, seen below, shows a number of trucks rolling out of British Columbia on Sunday.
Canada's vaccination/testing requirement became effective Jan. 15, and the Canadian Trucking Alliance claims it will cause the loss of from 12,000 to 16,000 cross-border drivers. The U.S. enacted a similar vaccination requirement on Jan. 22.
Despite its opposition to the mandate, CTA issued a statement against the rolling protest.
"The Canadian Trucking Alliance does not support and strongly disapproves of any protests on public roadways, highways, and bridges," the group said. "CTA believes such actions – especially those that interfere with public safety – are not how disagreements with government policies should be expressed. Members of the trucking industry who want to publicly express displeasure over government policies can choose to hold an organized, lawful event on Parliament Hill or contact their local MP. What is not acceptable is disrupting the motoring public on highways and commerce at the border."
The alliance also said the "vast majority of the Canadian trucking industry is vaccinated with the overall industry vaccination rate among truck drivers closely mirroring that of the general public. Accordingly, most of our nation's hard-working truck drivers are continuing to move cross-border and domestic freight to ensure our economy continues to function."
A crowdfunding page on the GoFundMe platform was created to support the protest convoy and has raised more than $3.4 million ($4.3 million CAD) as of Tuesday morning. Organizers say the money will be used to pay for fuel, and possibly food and lodging for participating truckers. Leftover funds will be donated to a veterans association in Canada, organizers say.
A spokesperson for GoFundMe was quoted in a variety of press outlets in noting that the large amount would be held until organizers document a clear plan for disbursement of the funds.
[Related: FMCSA proposed big UCR fee reduction | Canadian truckers protest border vax mandate]
Reman air compressors get improved distribution
Genuine Bendix remanufactured BA-921 compressors for Detroit Diesel 2007- and 2010-emissions-spec DD13 and DD15 engines are now available for sale in the commercial vehicle aftermarket, the company said. Along with greater access to the component, Bendix dealers and distributors will be able to consolidate purchases, expand their offerings, and provide more one-stop shopping convenience for customers.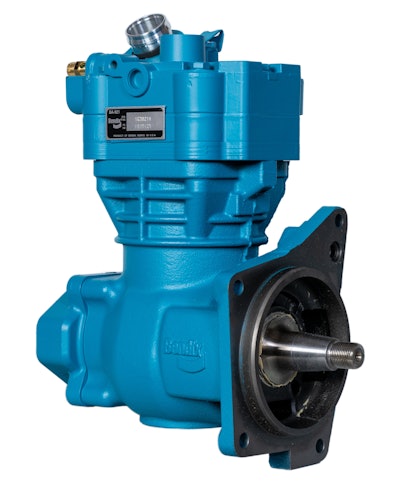 Bendix's manufacturer-reman parts come with a 24-month warranty. The company also remanufactures foundation drum brake shoes, valves, air dryers, steering gears, and electronics.
Pistons, connecting rods, bearings, and fasteners used in a truck's air compressor undergo a great deal of stress, and the compressor's head and unloading valves can experience carbon buildup, the company said. They remain potential failure points if they're not replaced as part of the reman process.
OEM-level remanufacturers like Bendix conduct the same postproduction testing as performed on OEM components to ensure proper performance levels.