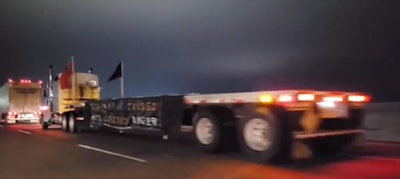 Trucking news and briefs for January 21, 2022:
Canadian drivers protest border vax mandate
Canadian truckers crowded the roads with anti-vaccine mandate flags and slogans on their trucks at the Manitoba-U.S. border this week in protest of the border restrictions for unvaccinated travelers, including truckers.
The move follows Canada flip-flopping on whether or not the mandate would actually be enforced and plenty of industry pressure from groups like the Canadian Trucking Association, which estimated could pull 12,000 drivers from service.
The U.S. has a similar vaccine mandate going into effect at the border on Jan. 22. Canada's mandate went into effect on Jan. 15. Social media feeds from the border show long convoys of trucks with anti-mandate messaging.
"Starting on January 22, 2022, the Department of Homeland Security will require that non-U.S. individuals entering the United States via land ports of entry or ferry terminals along our Northern and Southern borders be fully vaccinated against COVID-19 and be prepared to show related proof of vaccination," said Department of Homeland Security Secretary Alejandro N. Mayorkas.
[Related: SCOTUS spiked OSHA vaccine mandate for large employers but issue not entirely put to bed]
FMCSA proposes 27% decrease in UCR fees
The Federal Motor Carrier Safety Administration is proposing reductions in the annual registration fees states collect from trucking companies, brokers, freight forwarders and leasing companies for the Unified Carrier Registration Plan and Agreement for 2023 and subsequent registration years.
The proposed fees for the 2023 registration year would be reduced below the fees for 2022 by approximately 27%, which would translate to a reduction between $16 and $15,350, depending on the number of vehicles owned or operated by the company.

In accordance with U.S. Code, UCR fee adjustments must be requested by the UCR Plan when annual revenues exceed the maximum allowed.
[Related: Thousands of trucking companies getting checks in services fraud case]
New standard R452A refrigerant for Thermo King units
Trane Technologies announced a transition to lower global warming potential (GWP) refrigerant as standard in its Thermo King truck and trailer units. The company estimates it will reduce the carbon footprint of refrigerants used by its customers' long-haul, middle-mile and last-mile delivery fleets by nearly 50%, equivalent to the emissions of 143,000 passenger vehicles per year.
While customers previously had the option to drop in the lower GWP refrigerant, R452A, Thermo King units will now come standard with the industry's most sustainable refrigerant available in the market.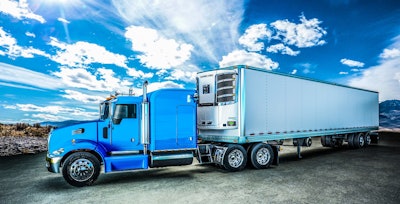 "Our company's entire strategy is centered on sustainability, and we are committed to delivering innovative solutions to customers that create value for their operations and are better for the planet," said Thermo King Americas President Karin De Bondt. "The enhancements to our trailer and truck units are important to decarbonizing the refrigerated fleets that deliver life-sustaining cargo, including foods and medicines, to people around the world."
In addition to helping customers meet their sustainability commitments, using a lower-GWP refrigerant as standard will help customers prepare for future regulation, the company said. Beginning in 2023, the California Air Resources Board (CARB) will require reefer units operating in California to use refrigerants with a GWP of 2200 or less. In North America, Thermo King is one full year ahead of this regulation.
[Related: Truck owners urged to engage on zero-emissions targets out West]