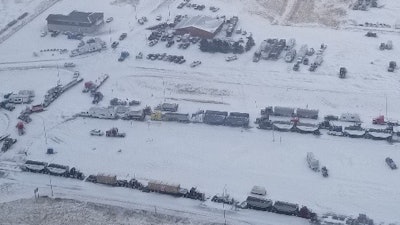 The Alberta Royal Canadian Mounted Police announced on Tuesday that it would take "further action" to break up what it calls an "unlawful blockade" of the border crossing at Coutts, Canada across from Sweetgrass, Montana, but for now law enforcement action appears limited and the Canada Border Services Agency has issued new recommendations for operators headed that way.
"Anyone who actively blocks a highway — or aids, counsels or directs a highway to be blocked — may be subject to arrest and charge," an RCMP statement on Tuesday read. "Persons participating in this blockade can also expect enforcement of any contraventions of the Criminal Code of Canada, the Traffic Safety Act and Use of Highway and Rules of the Road Regulations at this location and area roadways."
The traffic from the "Freedom Convoy" protesting across Canada has at various crossings caused delays for drivers and, according to the RCMP and many on social media, interrupted the flow of goods, as well as freedom of movement for some Canadian citizens.
"We haven't made any arrests at this time," Alberta RCMP Corporal Curtis Peters said today. "We've still got roughly 100 trucks and farm implements, like tractors and cultivators, blocking the road."
Peters described what started as a "peaceful protest" descending into disorder when drivers "completely blocked off the road," leaving many stranded or delayed as they faced an impassable border. Peters said the RCMP does its best to respect Canadians' right to protest, but he felt this action had gone too far.
"It's had a pretty negative impact on the community of Coutts, which was cut off from getting access to things like the mail," he said. "School buses didn't run, kids didn't go to school. The Mayor here talked on the news and tried to appeal to cooler heads to prevail, but he received some threats and harassment and intimidation as a result, which was completely uncalled-for. The truckers' fight isn't with the citizens here. The message they wanted to send is with COVID mandates, but the people that are most affected here have no bearing on COVID mandates. They're just innocent people caught in the middle, and that includes truckers and citizens."
Peters cautioned that while a "variety of efforts" have been made to clear the blockade, and three or four participants voluntarily left the scene when officers explained they were facing arrests, others broke through a blockade further north and swarmed the port of entry with more traffic. These participants then "dropped cultivators and farm machinery in the road, further immobilizing the road," said Peters.
The RCMP continues to weigh measures to clear the blockade as temperatures get into the negative teens overnight near Coutts.
How to avoid the delay at Coutts
While the port of entry does officially remain open, "there is no traveler access due to a blockade immediately north of the border crossing that is impeding movement through our port," CBSA spokesperson Rachel Purdy said. CBSA has temporarily expanded hours at two other ports of entry in Alberta -- Carway and Del Bonita. Purdy asked drivers to consult the Directory of CBSA Offices and Services to confirm hours and availability of service before heading out. For companies importing livestock across the busy lane for agriculture, Purdy suggested contacting the National Import Service Centre - Canadian Food Inspection Agency "to help determine where else the driver might be able to cross with their load."
Purdy also pointed drivers towards CBSA's regional Twitter accounts for fast updates: they're also part of Overdrive's "Roads 511" aggregated list of state and national DOTs' Twitter accounts, among those of other highway-info services.
The U.S. Customs and Border Protection Agency cautioned drivers that the port was closed and to seek alternatives. On social media, some drivers reported waiting at the border since January 29 in what's becoming a major focus for Canada's federal and provincial governments.
On Tuesday, the Canadian trucking organization the Private Motor Truck Council condemned objectionable tactics and imagery that came to light during the "Freedom Convoy" protests in Ottawa, which attracted large crowds well beyond the trucking community, while reasserting its own disagreement with Canada's border vaccine mandate, the reason the protests kicked off in mid-January.