Lee Epling has had it with parts costs. He was speaking the day after a late-night trailer tire blowout in Wisconsin in early August, a mere nine miles from a major truck stop chain location he has an account with and from whom he's "bought plenty of tires and service from" over the years, he said.
It wasn't the "call out, the two-hour minimum, nor the mileage charge for driving there" that bothered him, Epling said. No, "what killed me" was the cost of the tire.
Owner-operator Epling, based in Aiken, South Carolina, runs Double Coin tires on his trailers, and more premium tires usually on his tractor. He also owns a flatbed and a low boy, but on this day was pulling his 2015 model Utility step deck that does a good amount of running in and out of construction sites. (The trailer tires do take something of a beating, he noted.) To an extent, he makes tire choices to minimize cost given expected shorter life in his application.
The Love's shop's price to replace this Double Coin 255/70R22.5 trailer tire was $460-plus with valve stems and FET. In the moment and in the aftermath, via various online tire vendors -- like SimpleTire.com -- he was able to find the same tire for much less. One online vendor had it as low as $276, shipped even.
It pays to shop around, of course, if it's possible. Given he was down that late at night, though, he "had no alternative" as this was the only shop within 20 miles of the location with any hope of responding for road service.
"We take a beating from spot market rates, fuel costs, lack of adequate parking, lack of respect from the general public," Epling said. "Now we're going to be dealing with one of the larger truck stops with a repair shop" and prices that he feels just don't make sense. "I reached out to their customer service department in writing" for an explanation, to no avail.
I contacted Love's about the pricing of tires in its network, whether it's uniform nationwide or at individual franchise managers' discretion. I didn't hear back in time for this story, but the mid-$400s figure does seem a somewhat common price for the Double Coin brand in that size, scanning various online vendors.
Nonethless, Epling has since adjusted his own practices to mitigate the chances of this happening again, carrying an extra tire (purchased for a good deal less and delivered to his ship) mounted "on a rim, with a jack and a Milkwaukee impact [wrench] and four batteries to change it myself."
In general, service vendors all around the nation have raised prices to pass their own increased costs to the end user -- in some cases and then some, as it were, given how much cost inflation we've seen.
When it comes to the parts aftermarket, Chris Brady of Commercial Motor Vehicle Consulting issued his latest "Leading Indicator" index showing growth in aftermarket sales is finally slowing after a seldom-interrupted run-up beginning in January of 2021, tracking strong growth in freight volumes and trucking activity through last year, but also inflation well into this year, generally.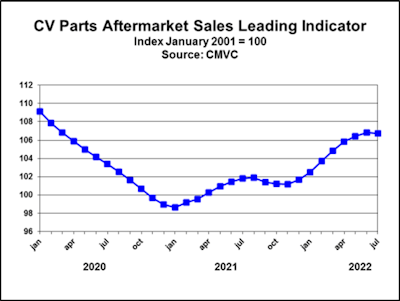 That slowing may well not be great news of relief in parts pricing, but CMVC President Brady at least interprets it as decent news when it comes to chances of a recession. He noted that "while there is much talk about a recession, at the moment, there are no signs of a recession in the fleet business environment, as cyclical factors remain at high levels. Cyclical factors combined with vehicle demographic factors will spur moderate growth in parts aftermarket sales in the coming months."
Yet spot market metrics this year so far have been such that many owner-operators might be crossing their fingers for a big rail strike this week -- and the uptick in spot truck freight it could deliver. The pullback in rates and volumes this year, even as costs have skyrocketed, certainly feels recessionary to many.
[Related: Possible rail strike could be 'polar vortex-level shock to the freight market']
Owner-operator Epling, fortunately, is out of the dealing-with-brokers game for now, hooked up with a direct shipper in a telecommunications-network builder that specializes in rural fiberoptic networks. He and several owner-operators he knows are running direct and dedicated for them supplying big projects throughout rural Georgia and elsewhere.
He's been working a multi-year project truck in a 1999 Peterbilt 379 he plans to put in service to replace his long-running 1999 International 9400, Detroit-powered workhorse. The 379 model "was the first truck I ever drove and made me want to do this job, and 11 years later I own one. To be able to not only buy a truck that I've always wanted" but to custom-build it in his own shop the way he wants it, well. ... What could be better? he suggested. It's a short-nose 379, and is set up with a third lifting axle ahead of the dual drives, with a 305-inch wheelbase to likely dramatically improve the ride over his current truck.
One of these days, when he's finished, we'll get down to his shop and see it up close and personal. For now, here's a bit of a teaser: