I got a call from Indiana-headquartered owner-operator Daniel Koors this week. After plenty deliberation, but with time against him, Koors said, "I put my name in the hat for a U.S. Congressional seat." He was running against time because, as he noted, his district's previous Congresswoman, Jackie Walorski, tragically passed in a car accident just more than two weeks ago, on August 3. Indiana's governor decided on a dual special- and general-election both to be conducted on the principal, November 8, Election Day for candidates to both serve out the remainder of Walorski's current term and to fill the seat for the next term. Koors filed for both special and general elections just ahead of the deadline this week and will be caucusing to potentially be the Republican Party nominee tomorrow morning at Grissom Middle School in Mishawaka, Indiana.
"I put my paperwork in this morning," he said Wednesday. "We have a caucus on Saturday for the primary. We'll find out Saturday if I get the nomination -- we're going to try."
Tough to run an effective campaign, no doubt, in just a few days, eh? At once, Koors has been talking to plenty among his fellow Indiana second-district residents about a desire to have effective blue-collar representation in the legislature, and trucking matters are of course among his principal issues of concern.
Since we last checked in with him in the wake of the December tornado outbreak in Kentucky, where he spent time delivering aid to affected areas, the owner-operator's gotten back to flatbed work, he said.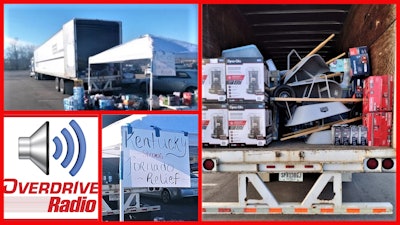 On the trucking front, Koors said he favors measures to liberalize the hours of service regulations -- "I'm a huge fan of the Leland Schmitt exemption," he said, which if granted would deliver to Schmitt the ability to use 11 maximum driving hours in a given day in whatever manner he felt necessary, without any required break period other than what's left after the 11 is taken in any 24-hour day.
While he feels it's likely some version of the current electronic logging device mandate is here to stay, he does favor looking back at a potential exemption to the regulation for the smallest trucking companies, such as the one that was floated in 2018 in this bill with bipartisan support of some measure.
Cleaning up the interpretation of personal conveyance at the roadside with clear-cut regulation, too, is a priority, though perhaps not exactly in the manner interests like the Commercial Vehicle Safety Alliance would like to see (CVSA has called for time and/or distance limits to any personal conveyance movement).
"Let's make everything black and white and get rid of all the gray areas in the regulations," and how they are enforced, Koors said. "There needs to be better regulatory clarity for motor carriers and drivers." Personal conveyance he sees as a clear opportunity for improvement. "If you're out of hours, you're out of hours -- you can't PC to the yard 20 minutes up the road. If you can't get there, you can't get there. Depending on the officer and how they want to interpret it," a different standard today might well apply, he added. At once, personal movements on off time should remain permissible, he believed. "if you park for a 34-hour restart, if you go an hour up the road to visit a friend and come back, why shouldn't that be allowable?"
[Related: What if you didn't always need 10 down after 11 or 14 in the HOS?]
Koors also notes he's in favor of greater emphasis placed on English-language communication skills as a prerequisite for obtaining a CDL.
Looking out more broadly, Koors emphasizes what he sees as wasteful spending on entanglements abroad, from U.S.-involved wars to the current conflict in Ukraine, as a big detriment to investment at home. In particular, "with all the stuff going on the schools," he said, much bigger investments are needed to protect teachers and students both and foster safe and effective learning environments.
Finally, with "inflation going the way it's going," he sees retirees struggling on fixed incomes in particular. "They need a raise on that, a raise in Social Security. Otherwise they're just going backward."
Koors is in a pretty crowded field in this quickly called election, and he's not the only owner-operator with a vested interest in tomorrow's caucus. Looking at names of the total 12 candidates in each of the special and general elections, I happened to recognize another in addition to Koors': Rudolph C. Yakym III of Granger, Indiana.
Regular readers may well remember his father, three-truck small fleet owner Rudy Yakym Jr., who told me this morning his 38-year-old son "has done well in spite of my ex-wife's and my worst efforts." The son is a business development manager for the Kem Krest company today, his father said, and "believes he has the votes" among precinct committeemen to win. Mr. Yakym III has also received the endorsement of some among former Rep. Walorski's family.
"He's earned a reputation as a man of impeccable integrity and capability," added the proud father, "He's conversant on both domestic and international issues, and he's a staunch conservative."
Good luck to the candidates.
UPDATE, 8/21/2022: Small fleet owner Yakym's son, Rudy Yakym III, did end up securing the votes to get the nod. According to reports, he'll face Democratic Party nominee Paul Steury in the general election.