The night of Friday, December 10, was a stressful one for my town here of Nashville, Tennessee, with the neighborhood tornado siren blaring between 1 and 2 a.m. and everybody and their brother no doubt gathered around whatever mess they might have, or not have, in their basements all across the city.
But of course the stress wasn't limited to us. The disastrous storms West and North and some South of us, too, were destructive on a level we've seen here before, but were lucky enough to miss this time around.
Owner-operator Daniel Koors of Indiana was up late monitoring storms' progress himself that night – as you'll hear in today's edition of the Overdrive Radio podcast.
Though the destruction to his South in Kentucky was readily apparent that night, the next morning owner-operator Koors felt motivated even further to do anything he could to help when daylight shone on just how devastating it was. Koors got a call from a fellow operator based in Lexington, and, some calls later, was on his way there with a dry van in tow to collect relief supplies and cash to distribute wherever it was needed.
[Related: Let's hear it for a good hand: Ben Kohler of Kohler Sawmill, Greenbrier, Tenn., in wake of Nashville tornado]
The operation continued for a full week, ultimately, as Koors told it. The friend who'd put out the call to Koors for potential use of the truck was Lexington-based James Toller, but he wasn't the only one involved in their effort. Greg Anderson, owner of small fleet AK Trucking, helped out, as did another trucking associate, Patricia Smith, in addition to the legions of folks donating to the effort on-site and from afar, of course.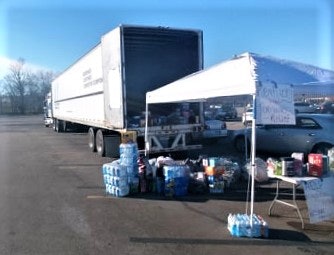 Two 53-foot dry boxes' worth of supplies were gathered in parking lots around Lexington and then distributed to Kentucky families, in addition to around $12,000 donated in person and online.
Today on the podcast, hear much more about the individual relief effort, yet another testament to how, when the going gets tough in the face of disaster, the tough get trucking for their fellow man. Take a listen:
As noted in the podcast, local TV camera crews showed up to document the owner-ops' hauls early the week after the storm system came through: