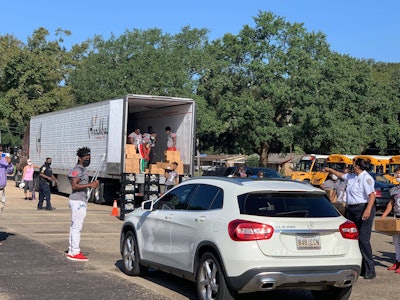 Shelli Conaway-Waugh
Images of deadly tornadoes that ripped across Western Kentucky and neighboring states shocked the nation this weekend, but as many sent their thoughts and prayers, a group of female truckers set out to bring trailer after trailer of needed relief and comfort to those in need, and in doing so they remind us of what makes trucking such a noble profession.
For Shelli Conaway-Waugh, head of Trucks With Room To Spare, a driver-led nonprofit that works with other drivers to provide transportation, warehousing, and distribution of donated supplies for communities in the wake of disasters, this tornado fell in her own backyard. A Kentucky native, Conaway-Waugh has sent supplies all over the country and even abroad to places like the Bahamas and Haiti.
She sees her nonprofit work as not just a way to help those in need, but as a way to stand up for the values of the trucking community.
"Drivers have such a bad rap," she said. "We're pictured as uncaring and cold and killers. This gives us a chance to meet the people that we actually help. This is something that we normally don't get to do in our day to day. What you put out is what you get back. You pay tithes at church, you give money to someone on the streets for food. In this manner, one truckload of supplies can help a whole community."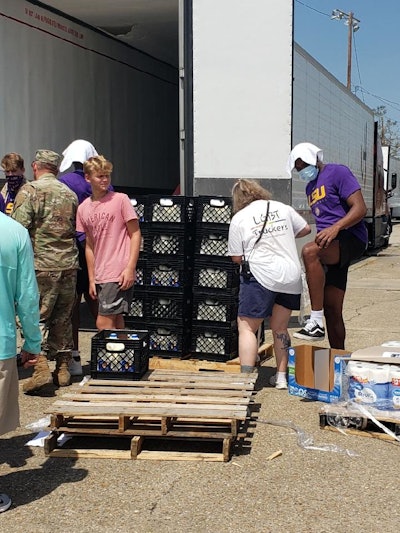 In the trucking business, it's easy to get tied up with the drudgery of the day-to-day work of hunting for good rates, good freight, and parking at the end of the driving day. But speaking to Conaway-Waugh revealed a trucking dimension too often missed: The human element.
"They're finished with the search and rescue and they're currently working on debris removal and cleanup and trying to get people the supplies that they need," she said of relief efforts under way following the storms, which that killed 75 in Kentucky, 12 of them children.
Trucks With Room to Spare marshals dry vans, reefers, and flatbeds through a network of volunteer carriers, owner-operators and drivers to bring a wide variety of goods and supplies to communities in need, something Conaway-Waugh said brought her immeasurable peace and satisfaction.
Her pitch to other drivers includes the fact that working for her nonprofit counts as a tax write off, and that haulers aiding disaster areas can often take advantage of hours of service waivers, but it also gets to the core of the "passion" that animates so many to become drivers: Delivering for communities.
"Right now they have desperate need for heat sources. We're taking up money for propane cause it's too difficult to haul," she said. "We're bringing in food and water and rebuilding supplies, trapping materials. All kinds of stuff."
Conaway-Waugh herself pulls a conestoga flatbed trailer, but says she can find use for just about any kind of hauling from those willing to volunteer space. Unlike warehouses and distribution centers that get picky with loads and appointment times, the victims of disasters greet her with a gratefulness that's nearly worth the freight on its own.
"It's when you pull in, I've never had people so happy to see me," she said. "You've got people asking what you have on, saying 'Oh great we need that, there's families inside asking for that.' Then you start meeting the the actual families and the children and getting to talk to them about little girls wanting to drive a truck when they see you pull in."
[Related: On a Hurricane Harvey relief mission with owner-operator Bill Ater]
Relief for drivers and communities alike
At a time when the trucking industry would appear to be on life support, if headlines and presidential statements are to be taken at face value, Trucks With Room To Spare seems to tick all the boxes that experts say will breath new life into trucking. It's no secret that the average driver skews older, skews male, and tends to work in isolation.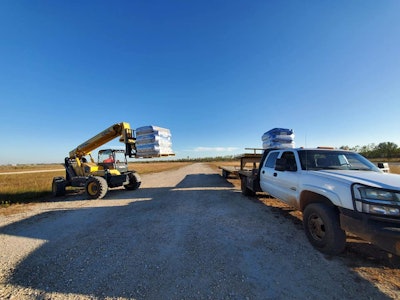 According to Della Hover, a company driver at Greenline Express out of Bowling Green, Kentucky, and a native Kentuckian herself, hauling for Trucks With Room To Spare doesn't just feel good, it makes financial and business sense.
"I'm a company driver and I've been driving for 5 years. I'm a fourth generation truck driver and the first female truck driver in my family. I have a nine year-old granddaughter that wants to be a truck driver just like me," said Hover.
Hover, who has lived in Florida and Texas, experienced a number of natural disasters growing up, including hurricanes and tornadoes that demolished her neighborhood and "exploded" a trailer she was living in.
When Hover started at Greenline Express, she made it clear that hauling with Conaway-Waugh's nonprofit was a requirement, and that she'd find work elsewhere if the company couldn't accommodate her.
"It's not what someone can do for me, but what I can do for someone else," said Hover. "Blessings are going to come back to us tenfold."
Hover said most all of the drivers she knows who've worked with Trucks With Room to Spare in recent times are women, something of an anomaly in an industry that's more than 90% male.
"I'm always telling drivers: 'Let me tell you about this place, let me tell you about these girls.' It's women truck drivers. It's all we have right now. We do this and we still work," said Hover. Conway-Waugh said that men do volunteer and work in the organization in administrative capacities, but as far as day-to-day operations go, it's all women drivers.
While big fleets scratch their heads over how to best recognize and retain drivers, Hover seconded Conaway-Waugh's notion that the best encouragement and connection a driver can find is in the eyes of the people they're delivering to, whatever the freight, though that's particularly the case with loads of aid.
"You don't know how many people I gave a hug to and said: 'Look at me, everything is gonna be ok, you'll see,'" said Hover. "Sometimes just hearing it makes a big difference."
As for business incentives to volunteer with Trucks With Room to Spare, there's no better press than deeply impacting the lives of people in need. "It's a win win for everyone. It's good publicity for your trucking company or the individual," said Hover. "But all that doesn't matter ... when that little kid comes up and gives you a hug and wants to climb in your truck or the mom says thank you and the dad shakes."
Right now, Hover said the organization needs trailers, trucks, and drivers, but especially trailers to help haul away debris. As tirelessly as they work, often coordinating until midnight and riding out as early as four in the morning, the women behind the nonprofit are already planning for the next disaster and the next set of families that may need help.
In the future, Hover said, Trucks With Room to Spare will visit the Mid-America Trucking Show in Louisville, Kentucky, and she hopes to host a charity fund-raiser and auction off dates with the drivers, so start saving up now.
[Related: There's a Truck-a-Thon in the offing, driver]