One of the best things you could get yourself for Christmas is an Audible subscription.
Full disclosure: as of the time of this printing we have no sponsorship relationship here at Overdrive with that company. I just think it was one of the most helpful things Denise and I did for our mental health in the early part of the pandemic. Somehow, listening to books while going down the road was a welcome respite from talk radio and cable news in all their angst-inspiring splendor.
One of our earliest books we listened to was Beck Dorey-Stein's "From the Corner of the Oval," the juicy, tell-all memoir of a White House stenographer. Listening to books really became something Denise and I did together. I can remember sitting outside of Nick's Bar-B-Q & Catfish in Carlisle, Arkansas, eating a fried pie while my wife fretted over Dorey-Stein's inability to break things off with an engaged senior staffer.
Ahhh, young love.
Around the time Denise's nine weeks on the road with me came to an end, Rosasharn was having her baby in Steinbeck's "The Grapes of Wrath." Denise asked a couple times how it all turned out, but I couldn't bring myself to tell her.
[Related: Midwestern God strikes back: Mild winter gives way to tough decisions this COVID-19 season]
One of my favorite books out on Audible right now is Mary Gauthier's "Saved by a Song: The Art and Healing Power of Songwriting." Regular readers may recall my interview with the "Queen of Country Noir" around the time her Grammy-nominated record "Rifles and Rosary Beads" was released.
The book, read masterfully by the author, begins with a quote from the "Gospel of Thomas":
If you bring forth what is within you, what you bring forth will save you. If you do not bring forth what is within you, what you do not bring forth will destroy you.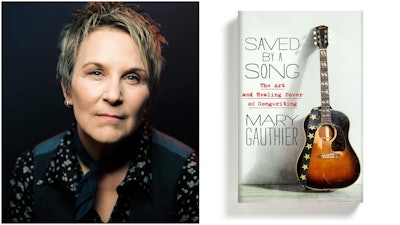 Gauthier, in a tell-all fashion similar to Dorey-Stein's, gives the listener an unvarnished account of a life of early addiction, a moment of grace at the age of 27 in a Boston jail cell, and the role learning the art of songwriting played in finding purpose through a long and painful recovery.
I had the honor of interviewing Mary for the second time. Here's a bit of a selection:
LHP: In "Saved by a Song," you mentioned the importance of walking in your creative process. Can you speak a little more to that? Also, I remember you talking about how you were hiking seven miles a day in the throes of the quarantine. Were there noticeable dividends in your creative life from that?
Mary: Oh yes, for many, many years, I walked the Red Trail at Warner Park with my friend Betsy, a rather difficult hike right near my house in Nashville. Walking became a huge part of my songwriting, as I'd hit the trail after a long morning at my writing desk. I thought of it as "walking meditation." Well, things changed after Betsy passed away unexpectedly. I lost touch with the walking, and became a swimmer. Today, I swim a mile a day when I am home, and sometimes when I am on the road (if the local YMCA will let me in). Swimming is also meditative, and I feel it helps my writing.
LHP: Mary, I'm noodling around for something here that I'm hoping you can help me express more clearly.
You described the process of writing "I Drink" [on Gauthier's 2005 "Mercy Now" record] as similar to the time-consuming steps of making a classic French reduction sauce, a demi-glace. You explained the process in detail to illustrate how there were simply no shortcuts to the writing of that song. You spoke of how a demi-glace begins, with 20 gallons of liquid that boils down to just a few cups of amazingly rich sauce. You went in detail, draft by draft, to illustrate how that all went down. Later in the book, you spoke of how you just couldn't make progress on "The Foundling" [from the 2010 album of the same name] until you located your birth mother, as your therapist had been suggesting. This suggests, to me at least, a certain evolution of process. In the first instance, you brought your knowledge as a chef to a song; in the second, the songs seemed to demand something difficult from you before they would allow themselves to be written. How has your process evolved since the writing of "I Drink"? Can you speak in general of a songwriter's obligation to the song, and how that can weigh on an artist?
Mary: Well, I think each batch of songs comes in asking different things of me. I write songs in batches because I've always made records, and each record requires 10-15 songs. Perhaps it would be different if records did not exist, but they still do, so writing in batches remain. Every batch comes through the creative portal a little differently, and there's no making sense of it while I am in. "The Foundling" asked me to go get my relinquishment story, and tell it. That was one hell of an ask (if you ask me!), but in the end, that record helped heal me more than anything I've ever written before or after. It was a commercial failure, but an emotional home run.
The whole creative process is such a mystery. Right now, I am working on a batch of songs that I believe are asking me to sing better. I am writing bigger choruses, and melodies with long- held-out notes. It's way outside of my comfort zone, and that's usually how this process works. Songs grow me.
LHP: I see you played in Belle Plaine, Kansas, at Treefest on November 3. In "Saved by a Song," you wrote about getting in trouble once in Salina, Kansas, when you were young, for pilfering a bottle of pills. You were told to never to return to that state. I'm curious, did you have to go through some readmittance process to be allowed back into Kansas as a singer?
Mary: Nah. I just let 35 years go by, and retuned to Kansas unannounced.
They have not seemed to notice.
[Related: Faces of the Road: Mary Gauthier and her new record of songs written with military veterans]