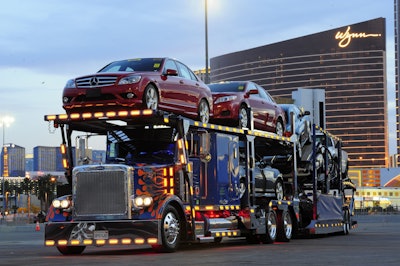 Sanger, Calif., resident and single-truck owner Stephen Ashburn's 2005 Peterbilt 379, pictured here under the lights on the north side of the Las Vegas strip, presented an ideal starting point for his truck-showing career.
The car hauler "was wanting to build my own truck, but just didn't know where to start, to be honest," he says, and when he saw the truck for sale online in 2007, "It was everything I loved." The truck didn't have many miles on it, and the previous owner had already started fabricating, including a few interior touches, the hood's flames and a few mod's that increased the truck's car-hauling prowess.
And for the first year he owned it, he ran it as was, "running it hard," he says, as the foundation of his Southern California car-hauling operation.
The second year, though, Ashburn began fiddling with the interior, and he started by hanging mirror-finished stainless around the cab and finishing them with a few flames. "Ran it like that for 6 months," Ashburn says, "that's when I met Jeff Botelho," owner of Botelho Brothers Trucking and founder of Tin Can Customs.
He befriended the show and custom truck veteran on his first trip to Vegas for the Great West Truck Show Pride & Polish competition in 2009, and "that's when we sort of got a lot of the bigger stuff going,"
"He had a lot of the ideas," he says. "I just kind of took advice from him, and he made it all happen," – to the tune of ripping out the hardwood flooring and replacing it with aluminum, redoing the truck's exterior flames, hanging custom 5-inch sidewall fenders and replacing the already-aftermarket bumper with an 18-inch blind-mount Aranda bumper, painting the dash and stripping off a good bit of diamond plate on the deck plate and trailer and replacing it with stainless to match the rest of the truck.
To polish it off, Ashburn's wife Lindsay came up with a fitting name. "We were sitting around joking at the first Vegas show," Ashburn says, "The style of the car hauler it is is called a screw truck, and with the head rack on there, she goes 'you should call it a Screw 'n a Nice Rack,' and everybody thought it was hilarious. It's never been posted on anything, but we just joke around with it."
Spec's:
Owners: Stephen and Lindsay Ashburn
Model: 2005 Peterbilt 379
Engine: 475-hp C15 Caterpillar
Wheelbase: 265 inches
Exterior Mods: Custom flame paint job, nearly 300 6-in. Maxima LED lights, custom-cut stainless steel over truck and trailer, custom-built 18-in. Aranda bumper, stainless steel battery boxes, custom visor, chopped top
Interior Mods: Painted floor and dash that match exterior, stainless ceiling and door panels, custom sanded and painted dash and gauge panels, painted aluminum floor, custom-cut and –painted door panels, blue LED lighting throughout, Silva custom toggle switches and brake knobs, RoadDawg flamed-polished aluminum steering wheel