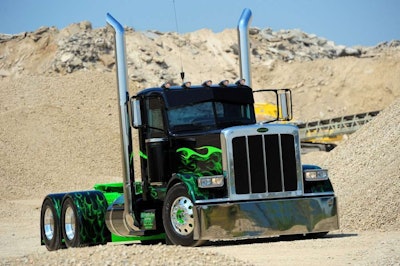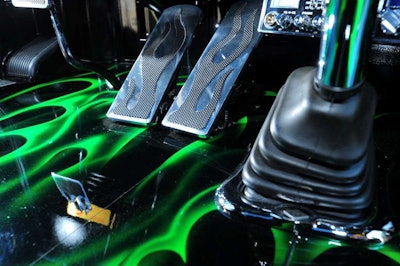 Working show trucks run in the Eilen family DNA. Brothers Jonathan and Pat Eilen have both customized trucks and won several beauty show competitions. They followed in the footsteps of their older brother Jake who did the same before his untimely death. And they all recognized the trend set by their father, Tom, who owns and operates Eilen & Sons Trucking and "always has nice shiny rigs on the road," Pat says.
Pat bought his 2010 Peterbilt 389 in January 2010 and immediately began tearing it apart and rebuilding it as a working show truck. After the truck's first show that spring, he and driver Mitch Larson shook things up again and made more modifications. They entered it in a Wisconsin truck show and the Pride & Polish competition at the Great American Trucking Show in Dallas. They snagged Best in Show at both.
Pat claims he doesn't do much planning in creating a design. It starts with a few ideas and takes off from there. "You want to come to a show with something new and different," he says. "You have something in the back of your mind, and as you go, you build. The first thing you build might not work so you throw it in a pile and start over."
For the paint color choices, Pat wanted a lime green combination to imitate his other white and lime green show rig, "Iron Outlaw." He and Larson decided on black, which was one of Jake's favorites, in addition to the green: Pat was born on St. Patrick's Day.
Like the other Eilen show trucks, most of the fabrication was done in-house by the Eilen crew. The truck's bodywas paint job was done byGraber Auto Body, and Top Gun Kustoms did the air brush painting. BT Design finished out the graphics work.
One of four in Pat's fleet in the family business in Hampton, Minn., this truck boasts exterior style reflected in the interior. Much of it is black, with details such as green stitching in the upholstery.
Pat says it's a balancing act between beauty and brawn. The truck is painted, polished and pampered for the show, but then goes back to work on Monday. "You leave a show standing tall and all the rock chips are sanded smooth and painted over and two weeks later, the fenders are peppered and beat up with rocks," he says. "It's your pride and joy going down the road.
"The truck has 175,000 miles on it. It's not sitting in the shed looking cool and collecting dust."