This profile is part of a two-week series in which Overdrive will be publishing stories about the four Pride & Polish National Championship winners — crowned in August at The Great American Trucking Show — and the four best of show winners from the event.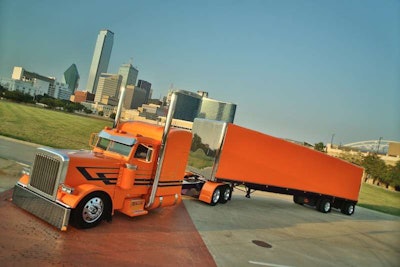 When Vinnie Diorio finished working on his award-winning truck, he knew it contained ideas others would replicate. "We named it Trendsettin' just because we did a lot of one-off ideas that people will soon follow," says the 33-year-old resident of Richfield, Wis.
Diorio – the National Championship, Limited-Mileage Combo winner – knows the trucking show circuit well, having shown five trucks over about 15 years.
The key for him with his 2013 Peterbilt 389 and 2009 Mac, he says, was stripping the truck to the frame rails and focusing on the small things as he rebuilt it.
The inside of the frame rails is painted orange, giving the truck an orange look even from below. They also took the dash from a 2000 Peterbilt and retrofitted it. Everything was shaved down, and bolts were countersunk for a smooth look.
"We got the ideas from previous trucks we've done," Diorio says. "We have a good time doing it. That's what we do it for."
– by Sean Randall