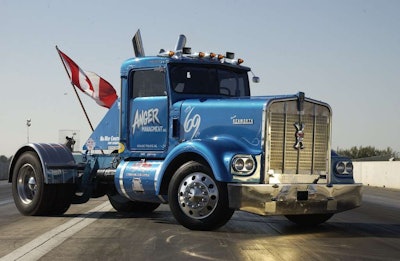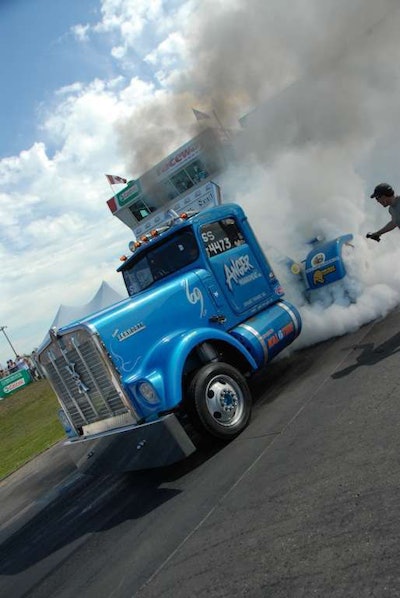 At first glance, this Kenworth W900 looks like just another cool-blue bobtail. But when the Anger Management logos come into view, along with a skull and crossbones-adorned grille and red-eyed rat in the rear, it's obvious this is a rig with a different attitude.
Someone has a few road rage issues – more specifically, a couple of cross Canadians, Ron Schramm and Al Rees, with bottled-up emotions.
Finding a suitable expression for their chip-on-the-shoulder natures required a bit of soul searching. That, and a friend at a local construction company with a worn-out '69 W900 Kenworth gravel truck that wouldn't go down without a fight.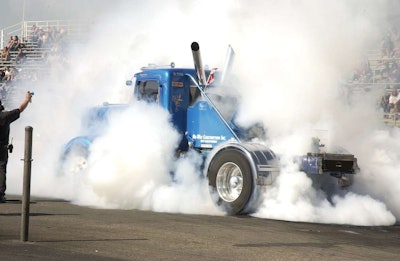 After wrestling over the engine choice, the pair finally settled on a Cat 3406B. Getting Anger Management to build up a head of steam to blow its stacks and smoke the tires was another matter.
Schramm and his cranky crew of malcontents bolted on water-methanol injection and a nasty nitrous system, along with a torrential Garrett turbo. The flood of forced induction and witch's brew of chemicals obviously burns more fuel when pumping out 1,500 aggressive ponies and 1800 lb./ft. of contentious torque.
To facilitate, the truck required larger injectors and upgrades to the injection pump, handled by Schramm's company, Under the Sun Mechanical.
That name suggests that maybe these guys have spent too much time in the sun, fevering their senses into cooking up mischief, along with several other insane mods to both the driveline and chassis.
The latter included lowering the front end six inches, and fitting in an aluminum-framed, Nu-Way rear. All the upgrades, including the 4-in. body chop and a metallic-blue paint job with pinstripes and Roadrunner cartoon characters, were accomplished in less than two years.
What's also impressive is the performance. For a 9,700-pound big rig to run through the quarter-mile in 12.8 seconds at 115 mph — that's one vicious snit. Schramm throws even nastier tantrums in burnout contests, dropping the hammer and frying the hides like a house aflame.
Feeling a bit depleted from these emotional outbursts, Schramm recently passed ownership of the firebrand on to Sam Olexiuk of S&J Truck Tech, who is running the KW with a fitting name: Anger Management—Under New Management.