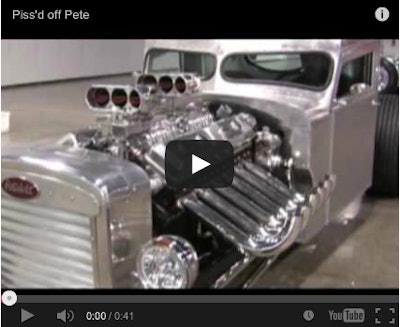 Of the 240 videos on our YouTube channel, one accounts for more than a fourth of all our 857,201 views. It's a glimpse of a phenomenal tractor-turned-hot rod, Piss'd Off Pete, designed by one of the premier automotive stylists, Randy Grubb:
[youtube w7o4ilmyUX8 nolink]
Bruce Smith, then editor of our Custom Rigs magazine, taped the transformed 1960 Peterbilt 351 at the 2009 Great West Truck Show in Las Vegas. Since then, it's been featured on Jay Leno's Garage.
Leno's website features his collection of some 190 vehicles, almost half of them motorcycles. Video features with Leno highlighting his collection and other vehicles also can be found on youtube. Among those is a 12-minute video on Piss'd Off Pete. It's the definitive presentation, including conversation with Leno and Grubb:
[youtube p4frzQdh6GE nolink]
While Leno does own the Grubb-created "tank car," an M47 Patton tank conversion, the talk show host doesn't own the angry Pete. "We're buddies," says Grubb, of Grants Pass, Ore. "Every time I finish something, he films it and puts it on Jay Leno's Garage website."
Grubb says he sold the Pete to Gary Ries, owner of Stagecoach Express, a small fleet in Hastings, Minn. Ries, an avid collector of race trucks and show trucks, told me he takes the Pete to truck and automotive shows. Ries says he plans to include it in a truck museum he hopes to open next year, though he doesn't want to discuss details until plans are more developed.
Grubb says he's often asked which one of all his creations that he's sold would he like to have back. "I'd have to say Piss'd Off Pete," he says. "I'm coming from a hot-rodding perspective."
The challenge of transforming the Pete into a classic hot rod style fit with how Grubb perceives his niche as an "automotive arist. I create full-sized sculptures you actually get to drive down the road."
"Piss'd Off Pete was conceived as my caricature of one of the old '70s top fuel altereds," he says, referring to extremely fast, large-engine cars with heavily modified bodies. For example, the Pete has ultra-thin, 12-spoke spindle-mount front wheels. The rear wheels are wide singles to mimic the wide slicks used in drag racing.
You can check more details of the Pete on this 22-photo gallery on Grubb's website.
The Pete's powered by a two-stroke Detroit Diesel 12V71, the 71 referring to cubic inches in each cylinder. It's a non-turbo version made in the '70s, producing almost 1,000 foot-pounds of torque and just under 500 hp. It has a large, four-speed Allison transmission.
Grubb says he used to draw a lot of attention at car shows when he'd rev the engine. It's abnormally loud (hence its name) and maxes out around 2,500 rpm. "The hot-rodders couldn't believe it was two-stroke and wasn't at 6,000 rpm," he says. They also couldn't believe that its only fuel was diesel.
"I can't tell you how many arguments with guys, car guys, when I fired it up and they wouldn't see it smoking," he says. "I'd say if a Detroit Diesel is properly tuned, to a razor's edge, which this one is, and not pulling a heavy load, there's no reason for it to smoke unless it's got big injectors in it."
Here's Grubb demonstrating the Pete's rpms at a show:
[youtube pOVJG1DgwJs nolink]
Grubb says he'd like to do another Class 8 project, but nobody's commissioned one since the Pete.