If you're not already familiar with the Blastolene Brothers, there's a good chance you've seen their work: Jay Leno famously purchased – and occasionally drives – one of their designs, the "Blastolene Special," an extra-large roadster powered by an engine cribbed from a 1950s-vintage U.S. Army Patton tank.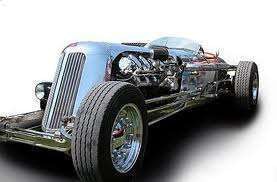 The Blastolene Brothers aren't brothers and they aren't engineers. In fact, they don't even live in the same state. Yet their artistic collaboration is redefining the concept of the modern hot rod/customized car world. The "brothers" dream and design big. And as such, heavy-duty trucks play a large role in both the conception and the execution of the vehicles they produce.
The Bastolene Brothers are are actually a partnership formed by California-based Randy Grubbs and his friend Michael Leeds who works out of a log cabin in the dark woods outside of Portland, Oregon. The two grew up in the car-culture Sixties California – the very world that George Lucas portrayed so vividly in American Graffiti. (An aside: Forget Star Wars and Indiana Jones: American Graffiti is the greatest movie Lucas has ever made and will ever make.)
Neither of the brothers is a trained engineer. In fact, they see themselves more as contemporary artists who use the automobile as their muse and subject. Their designs are big and bold, yet draw dreamily upon cultural cues that all car fans – and even most Americans in general – recognize on a visceral level: Art deco, Indy racers, street rod culture and European elegance all find its way into their work.
There is also a strong connection to the world of trucks in their work. Because so many of their projects are larger-than-life, trucks and large diesel engines play a prominent role in their designs.
Take their just-released Decoliner, which first brought the Brothers to my attention. This crazed, art deco RV was crafted together by merging a 1955 White semi with a 1972 GMC motor home. The predominant feature is the fishing boat-inspired flying bridge: The vehicle can be steered from the cab, or – through a very clever linkage system – up top and out in the open air.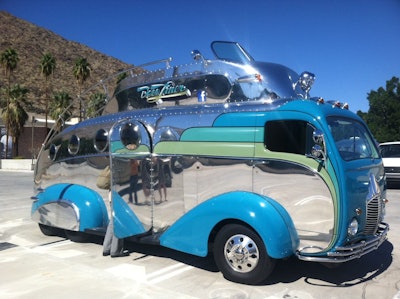 The brothers have been working on Big Bertha, a 1930s roadster-inspired design since 1972. The continually-evolving car is based on a 1941 Seagrave Ladder Truck chassis.
And how about Pissed Off Pete? It's a roadster clearly inspired by the rat racers that started popping up in the 1940s and '50s. But it's designed around a 1960 Peterbilt Model 351 and features a Detroit Diesel 12V-71 V-12, two-stroke engine.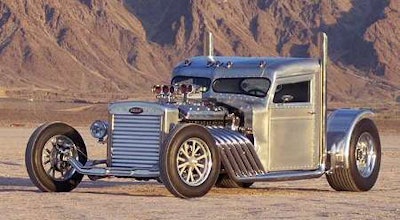 This is clearly the stuff that American Automotive dreams are made of. And, of course, it's no surprise to see that American trucks get a definite tip of the hat from these talented designers. It's yet another testament to the enduring influence and importance of the trucking industry down through the years.
There's a lot more out there on the Blastolene Brothers. But here a few good links if you want to know more:
Blastolene Cars
Blastolene No Limits