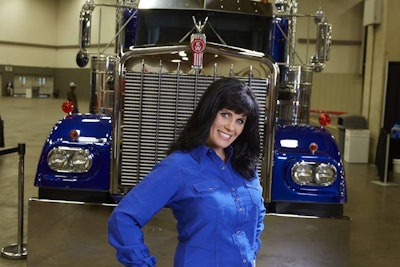 David Schnautz's 1981 Kenworth W900A serves as the backdrop for Overdrive's Most Beautiful finalist Tina Comer, who hauls logs for Comer Trucking, owned with her husband, Robert.
Schnautz's truck, Red Thunder, competed in Overdrive's Pride & Polish National Championship at The Great American Trucking Show in Dallas in August.
Comer – who as an Overdrive 's Most Beautiful finalist won an all-expenses-paid trip to GATS – has been helping her husband in their business for 24 years. Comer began driving six years ago when the youngest of the couple's four children was old enough for them to add a second truck.
"I wish I had known that I didn't have to be so serious about trucking," she says. "Just go out, do the best job you can do, and learn to laugh at yourself, because you're going to bend a bumper on a stump once in a while."
Overdrive is accepting nominations for its 2014 Most Beautiful contest — Click here to learn more or to make a nomination.